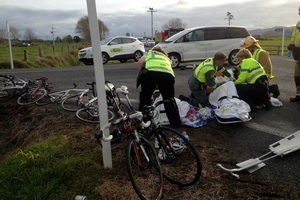 Police have urged motorists to take more care following a crash near Taupiri yesterday that left several cyclists injured.
Waikato road policing manager Inspector Marcus Lynam said the circumstances of the crash, at the intersection of Lake and Dawson roads, were still being investigated.
"Initial indications on the cause of the crash are that a Toyota Estima peoplemover-type vehicle has failed to give way at an intersection and collided with a group of six cyclists when it crossed from Dawson Rd on to Lake Rd,'' he said.
"Five of the cyclists, who were all members of a Hamilton secondary school's cycling team out on a training ride, were injured in the crash with three being flown by air ambulance helicopter to Waikato Hospital with status two injuries, while two riders were taken to hospital by ambulance with status three injuries.''
Mr Lynam said it was still too early to say whether any charges may be laid in connection with the incident.
But he urged all motorists to adhere to the road rules and be alert to potential hazards.
"The Waikato road network is for the use of everyone and there is clearly sufficient room for all modes of transport if consideration is given,'' he said.
"Intersection rules are there to prevent crashes such as this from occurring if road users adhere to them. Sometimes motorists can become too complacent and believe because they have good local knowledge they will be OK.
"What police are saying, however, is that it is important that you maintain your situational awareness and be alert of who you are sharing the road with and potential hazards.''
The five schoolgirl cyclists injured in the collision are now at home recovering.
The teenagers from Waikato Diocesan School for Girls were out with their coach training for the upcoming North Island Secondary School Champs.
Three of the girls were flown by the Westpac Rescue Helicopter to Waikato Hospital with serious injuries while the remaining two and their coach Pip Sutton were taken via ambulance.
Ms Sutton, a Waikato University student who broke her wrist in the accident, did not want to talk about the crash.
The Hamilton school's website said the parents of the girls, all aged 17, rushed to the hospital last night. The girls were later all discharged from the emergency department.
It could be up to two weeks before police decide whether charges will be laid against the van driver.
Waikato Highway Police Sergeant John Stapleford said police had interviewed the driver, a Hamilton man on his way home from work, but were yet to interview the teenagers.
- APNZ