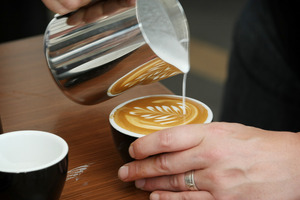 A cafe worker was defamed by her employers when they described her as a "liar and a thief'' on a blackboard outside the business, the Employment Relations Authority says.
The cafe owners had returned from holiday to find money stolen, and unfairly blamed Andrea Larsen.
Ms Larsen, who worked front of house duties at the Drifters Cafe in Granity, Buller, felt she had been sacked from the company when she saw the blackboard as well as similar messages on the business owner's Facebook page.
The Employment Relations Authority (ERA) agreed her dismissal was unjustified and ordered Steve and Sharleen Terry to pay $8000 in compensation to Ms Larson for humiliation, loss of dignity and hurt feelings.
In May, 2011 Mr and Mrs Terry travelled to Thailand for a two-week holiday and left a former employee who they trusted, Kris Ivos, in charge of the cafe.
The Terrys told the authority in their absence the cafe became a party venue.
At the end of the first week of their holiday, Ms Larson said Mr Ivos invited about seven people to the cafe to celebrate a successful first week.
"In the middle of the time we were having drinks, Kris told everyone that the takings were in the bedside table drawer,'' she told the ERA.
"I thought it was a highly strange and stupid thing to bring up, even around friends.'' The following day the money was missing.
Mr Ivos told the Terrys he thought the money had been taken by Ms Larson or another person who was at the celebration.
The Terrys closed the cafe for the last week they were away.
When they returned, Mrs Terry wrote a message on a large blackboard outside the business that said "Andrea Larsen is a liar and a thief''. She repeated the claim on her Facebook page.
Ms Larsen claims she was both defamed and publicly humiliated and in those circumstances she could not return to work for the Terrys.
Mrs Terry said she wrote the statement ``out of frustration'', and related to an incident where she claims Ms Larson undercharged a friend for some food and drink earlier in the month. She claims that Ms Larson said at the time said she would pay the difference.
ERA member Michael Loftus said the Terrys accepted there was no evidence Ms Larson stole money. "They simply have no idea who stole it.''
The public accusation "essentially defamed Ms Larson'' and to try to justify the message was inappropriate, he said.
Mr Loftus found Ms Larson had been unfairly blamed and unjustifiably dismissed, and was deserving of compensation.
- APNZ