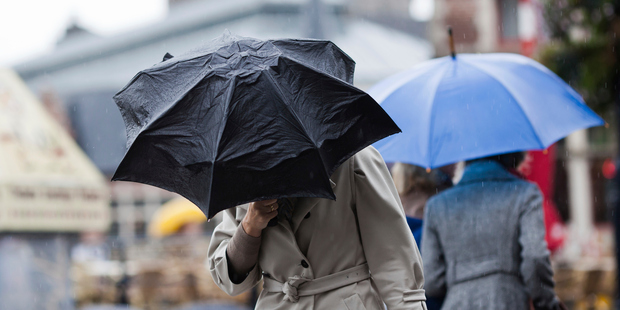 A spring storm has started to lash the country with heavy rain and gale force winds.
MetService has issued severe weather warnings for the lower half of the country, as an active front is set to approach the South Island before moving over the lower North Island tomorrow.
The storm is forecast to bring wet weather to the west, and strong winds gusting up to 140km/h in the east.
MetService metrologist Daniel Corbett said the heaviest rain would move into the deep south and west of the South Island.
"In Fiordland the rain is starting to pick up in intensity, [we're] already seeing a bit of thunder down there too.
"Winds are picking up too, because it's a very tight pressure gradient ... there's a big high sitting to the north of New Zealand combined with a low to the south and the squeeze between the two is creating this area of very strong north-west winds."
Winds were already gusting at over 100km/h and were heading north, Mr Corbett said.
"The whole front - because it's slow moving - it's pretty much parallel to the upper level wind flows, it's going to feed in a good dump of rain to the West Coast from Fiordland to Westland."
The active front is preceded by a very strong northwest flow, with heavy rain and thunderstorms on the West Coast from Fiordland to Nelson, spreading east over the Otago and Canterbury headwaters. Rainfall of around 300mm is expected on the Westland ranges and the Divide.
Peak rainfall intensities of 20 to 30mm per hour is expected about the southern Alps and northern Fiordland ranges.
"This is a significant amount of rain, and people in the affected areas are advised that rivers are likely to rise rapidly with the risk of flash flooding," MetService warned.
Tomorrow, the front would move up central New Zealand into Taranaki and the Central Plateau bringing a risk of heavy rain on Thursday, Mr Corbett said.
Northwesterlies are expected to rise to severe gale for most eastern parts of the South Island, and also Fiordland, Wellington and Wairarapa with gusts of 120km/h. Damaging gusts of 140km/h around inland Canterbury and the Canterbury Plains north of the Rangitata River are also expected in the next 24 hours.
The strong winds are likely to bring down trees and powerlines, making driving dangerous - especially for motorcycles and high sided vehicles.
By mid-week, the strong winds and wet weather would focus on the North Island.
A severe weather watch for heavy rain has been issued for Mt Taranaki, the Tararua Range, the central North Island high country and eastern Bay of Plenty.
MetService also warned there was a chance of very strong winds in Hawkes Bay.
Send your weather-related stories, photos or video here.
- APNZ