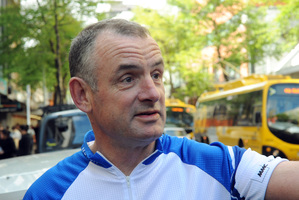 Labour MP Trevor Mallard, who was responsible for $36 million in government funding for Team New Zealand's America's Cup bid, is one of the politicians on a taxpayer-funded visit to San Francisco to watch the finals series.
Cabinet minister Amy Adams is also in the city and Sport and Recreation Minister Murray McCully is expected to stop off at the New Zealand base later this month.
Mr Mallard, who held the Sport and America's Cup portfolios when he was in the Cabinet, sought permission from the Speaker and his party leader to make the trip and for it to come out of his parliamentary expenses.
He plans to stay in the US until Team New Zealand win or until Parliament sits again next week.
He said he would meet expat business leaders in San Francisco and also fledging firms that could benefit from the support of senior MPs.
"New Zealand politicians are sometimes more respected offshore than they are by locals and we can sometimes be of use in explaining systems and providing support."
Mr Mallard said he was proud of his role in helping Team New Zealand's bid: "When they had their first two wins ... there was more than one tear in the corner of my eye."
He will also be looking at the infrastructure required to host an America's Cup in the event Team New Zealand win and Labour is in government for the next competition.
Ms Adams is visiting San Francisco and Washington, accompanied by an assistant, as part of her communications and IT responsibilities. She will be hosting events that will give New Zealand tech companies the opportunity to pitch their ideas to Silicon Valley investors.
Prime Minister John Key said he was "highly unlikely" to see any races in person because of a planned trip to Britain, France, and New York but the Government would be represented by Mr McCully, who would visit on his way to the UN.
Mr Key said yesterday the Ministry of Business, Innovation and Employment was already looking at what would be required to upgrade the Auckland Viaduct if New Zealand hosted the competition again.
He said the Government was likely to fund another bid only if Dean Barker's crew won the Cup.
"If they lost it would be much more difficult for us to put money in again."
A Government subsidy was likely to be larger than the $36 million that Labour committed to Team New Zealand in 2008 because it would have to cover infrastructure changes.
Asked whether the $36 million was a good investment, Mr Key said: "Come and ask me if they win."