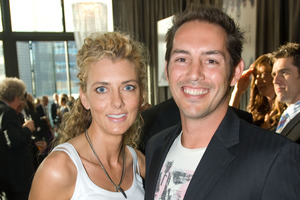 Details from Sally Ridge and Adam Parore's ongoing court battle over their break-up can now be published after a High Court judge lifted a non-publication order.
In a judgment delivered this afternoon, Justice Pamela Andrews said the parties had not proved they had exceptional personal circumstances that would outweigh the principles of open justice.
She set aside a non-publication order, made in March last year, which until now had prevented the publication of Ridge and Parore's identities, and the matters at issue between them.
Justice Andrews delivered her judgment in the High Court at Auckland this afternoon, allowing details to be published from 4pm today.
The ongoing court battle concerns property following the end of Ridge and Parore's relationship.
Among the property in dispute is Parore's company, Small Business Accounting NZ Ltd.
However, Justice Andrews prohibited publication of any financial information about the company.
Justice Andrews lifted the non-publication order after APN New Zealand, publisher of the New Zealand Herald, last week made submissions in favour of open justice and freedom of expression.
APN's lawyer Kristin Bradley noted both Ridge and Parore had used their celebrity status for commercial gain, and there was public interest in their affairs that went beyond parties who were less well-known.
Lawyers for Ridge and Parore argued the relationship property case was of a personal and private nature, which meant it had substantially less public interest than civil, commercial or criminal proceedings.
It was submitted that financial information relating to the company was commercially sensitive and would likely be damaging to the company's interests.
The company's financial standing was not in issue and was irrelevant to the proceeding, Parore's lawyer Zane Kennedy argued.
Justice Andrews said the onus was on the parties to prove exceptional circumstances that would outweigh open justice.
"The parties have not satisfied their onus of establishing that there are exceptional circumstances relating to them, personally, that could displace the principle of open justice.
"I have concluded that there are no grounds on which the order preventing publication of the parties' names can be sustained.''
However, she ordered there was to be no publication of any financial information concerning the company.
The case is due to continue next Monday.
- APNZ