Policeman left barely recognisable and unable to talk after ferocious bashing in South Auckland.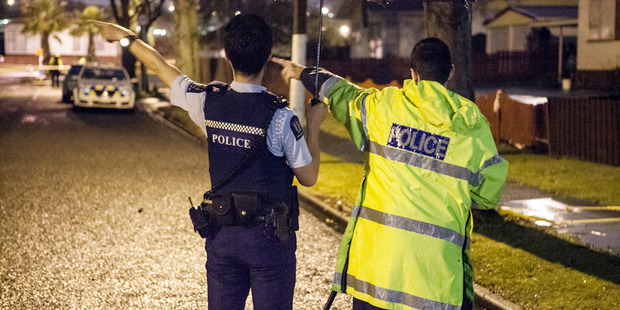 The man police had been seeking following a vicious attack on a sergeant in South Auckland handed himself in last night.
Walter George Tauatevalu, 36, was wanted for questioning in relation to the assault late on Saturday that left Simon Tate unable to talk and barely recognisable.
Tauatevalu, a former gang associate, surrendered to the Counties-Manukau police around 9pm.
Earlier in the day, senior officers had urged Tauatevalu to go to a police station "peacefully" to avoid a confrontation.
Mr Tate was on his first shift back at work after a holiday to the United States and Tahiti with his partner, Lisa Ross, when the attack took place.
The 42-year-old, on a routine patrol, had received a report of disorder at the velodrome on Te Irirangi Drive in Otara.
Yesterday, Ms Ross kept friends updated with posts online of Mr Tate's condition.
"He is stable but you would not recognise him at present. He is aware but thinks he is still in America."
Detective Inspector Jim Gallagher said that on Saturday night - unbeknown to Mr Tate - a "very violent incident" was occurring inside and outside a vehicle at the velodrome.
"As he drove by that vehicle, a woman from the vehicle stopped [him] and advised [him that] a woman in a vehicle that was leaving the grounds of the venue was in trouble."
Mr Tate followed the car to nearby Sandrine Ave, where he stopped the vehicle and spoke first to the driver and then to a woman on the passenger side of the vehicle.
"While he was doing so, he was struck from behind with a powerful blow from a fist. He dropped to the ground and was punched and kicked profusely for what seems to be a lengthy period of time."
Mr Tate - unconscious, bleeding from head wounds and with "laboured breathing" - was continually beaten with "full-force kicks to the head and also jumping on his head".
Two women, friends of the female in the car, had followed them to Sandrine Ave and approached the attacker to try to stop him.
"They both stood between the assailant and the officer to endeavour to prevent any further harm coming to him. Even while they were present the assailant continued to rain blows to his head whilst on the ground."
The woman in the car drove off, and the attacker fled on foot.
After receiving specialist treatment at Greenlane and Auckland City Hospitals, Mr Tate was due to return to Middlemore Hospital last night.
He is suffering from a brain bleed, as well as many broken bones in his face, throat injuries and head wounds.
A friend told the Herald he was a "good bloke" and "dedicated police officer" who was always willing to help. "Everyone is just devastated this could happen."
Mr Gallagher said in terms of bodily harm, "this is as extreme as it can get in terms of an unprovoked, wanton, violent attack upon an officer who in this circumstance was seeking to ensure the safety of a woman".
He praised the two women who tried to protect Mr Tate - and may have saved his life.
"I can only say much worse could have happened to the officer if they hadn't taken the steps they did to intervene. They certainly put themselves into the line of fire of a very violent individual and knowing that, they still went forward and intervened ... Continuation of the attack could have had fatal consequences."
Police Association president Greg O'Connor said the incident was brutal and illustrated the reality faced by many officers as they went about their work "up and down the country".