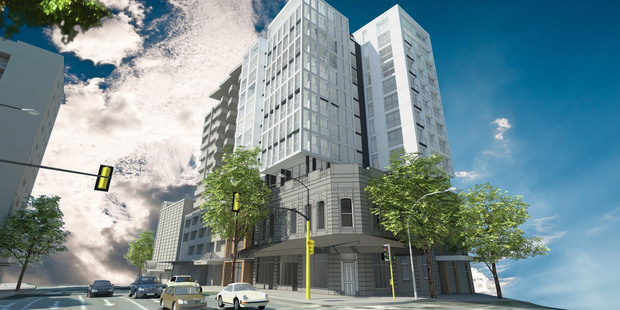 Auckland Council has squandered public funds buying the 1885 Wong Doo building in Hobson St for partial preservation, says heritage campaigner Allan Matson.
Mr Matson, who has been trying to save the two-storey, masonry building for eight years, said a 14-level retail and apartment development on the site was a dreadful architectural outcome for the city.
Mayor Len Brown last week announced the Wong Doo building and two mid-19th century worker cottages at Airedale St as the first recipients of the council's built heritage acquisition fund, which stands at $16 million.
The purchase prices are confidential.
The exterior facade of the Wong Doo building, on the corner of Hobson and Cook Sts, will be fully restored, but half of the building will serve as the first two floors of the new development - a move described as facadism by Mr Matson.
When the restoration is complete, the council will sell the building back to the developer, KNC Construction Ltd.
Mr Brown said it was an excellent outcome for the first use of the fund.
He said it was saving a piece of Auckland history as part of a project that would inject investment, retail and residential use into an area that needed revitalisation.
The Wong Doo building got its name when Thomas Wong Doo moved in in 1942 and ran a business selling textiles, silks, embroideries and fireworks for the next 20 years.
It last housed the Canvas City Company.
The Airedale cottages are thought to have been constructed by stonemason Thomas Rusden who bought the site in 1856.
The two cottages, rare examples of colonial era workers' housing in the central city, were owned by the Pezaro family between 1931 and 1966.
The family ran a cigar factory from an adjoining property in Wakefield St.
The cottages will be restored and sold.