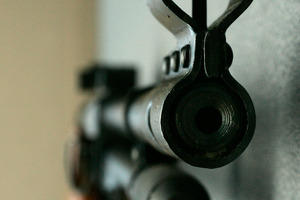 A gardener blowing leaves in one of Auckland's most upmarket suburbs was shot with an air rifle as he worked.
The man was outside a property on St Stephen's Avenue in Parnell - the street Prime Minister John Key lives on - when he felt a sharp pain in his arm about 7.40am yesterday, a police spokeswoman said.
He was taken to Auckland City Hospital, where an airgun pellet was found embedded in his arm.
It is understood he underwent surgery today to remove the pellet.
The victim, a 35-year-old professional gardener, told police some people in the area weren't too happy about the noise of lawnmowers and leaf blowers at that time of day.
Jerome Wu, the owner of Mojo Garden Care in Auckland, said there was no law governing the times gardeners could use noisy equipment.
As a rule, he and most other operators he knew would keep their work to normal business hours and only occasionally on a Saturday.
The earliest he would start was 8.30am and he said 7.40am was too early to be using a leaf blower in a residential area.
"I know that some people do start around that time but I think it's very early. It's not a legal matter but surely you wouldn't want people digging up stuff and making a lot of noise when you're sleeping.''
This did not excuse shooting the man with an air gun, he added.
- APNZ