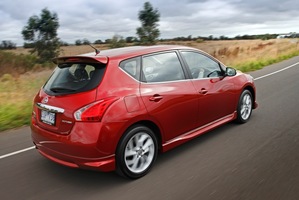 Complaints that a Nissan advert was irresponsible and "glamourised" speeding have been upheld by the Advertising Standards Authority.
The television advert for the Nissan Pulsar hatch showed a young couple practising to get to hospital quickly while the female passenger feigned labour.
The advert finished with them at the entrance to the hospital where the male driver said "10.24, our personal best".
One viewer complained the advert was irresponsible because it promoted speed and unsafe driving.
Another was concerned it appeared to "glamourise and encourage reckless and dangerous driving".
In a decision released yesterday, the Advertising Standards Authority (ASA) found the advert breached the Code for Advertising Vehicles and was not prepared with a due sense of social responsibility.
The advert "clearly depicted a time trial scenario which was consistent with glorifying speeding and therefore encouraged unsafe driving practices," the ASA complaints board decided.
Nissan NZ managing director John Manley told APNZ the Australian-made advert had been approved by the Commercial Approvals Bureau, which has to approve overseas commercials before showing here and its scheduled run had finished.
"We went through the proper approval process. But the Advertising Standards Authority differed from that view.
"Why do you think this is of any interest? I don't know how many people watch TV, but one person has complained out of 4.5 million people in New Zealand."
The ASA said it considered the response from the Commercial Approvals Bureau, which believed there was no evidence of speeding or unsafe driving in the advertisement and said it was depicting a "stressful situation governed by the laws of emotion".
In other decisions released yesterday, the ASA upheld a complaint against an advert for skin treatment cream Efudix presented by Jude Dobson as part of the Family Heath Diary TV commercials.
The ad showed the cream, made by Valeant Pharmaceuticals NZ, being applied with bare hands to the back of a hand and a warning appeared at the bottom of the screen which said "avoid contact with mucous membranes or eyes".
The complainant said the advert was misleading because it encouraged using bare hands in the advert when the product should be applied with a spatula or while wearing gloves.
Two other complaints were partly upheld.
A newspaper advert for Epsom Chiropractor was found to have the potential to mislead customers about the ability of the advertised technology to "correct", and therefore treat, spinal pain.
A complaint against travel website Expedia was partly upheld after the ASA found an advert did not explicitly state key conditions attached to a single-use $50 coupon offer.
The board also said that the advertisement had not been prepared with a due sense of social responsibility.
- APNZ