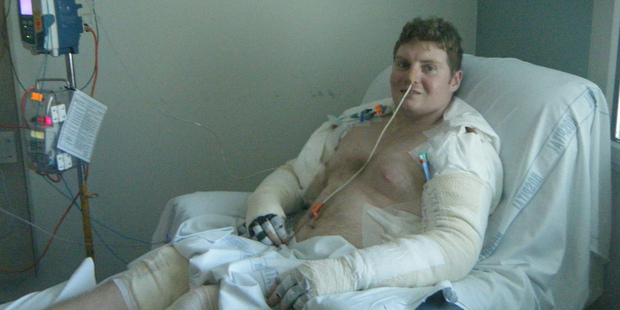 Lower Hutt firefighter Troy Mahupuku didn't think about the agony he was in as he was being pulled from a burning building - he only thought about his partner who was pregnant with a baby girl.
"I was determined that I couldn't die with my baby girl on the way and my girl Jess on the outside," he said from his hospital bed at Middlemore Hospital's Burns Unit.
He and his partner Jessica Paine were expecting their first child in January and Mr Mahupuku said it was thoughts of them that kept him going in the fire.
"I think my first words when I was dragged out of the building were that, 'I'm out, I got out for my girls'.
"I had a real feeling of relief. There had been a lot of pain, it was agonising, but I couldn't think about that, I had to concentrate and think and plan to get out alive."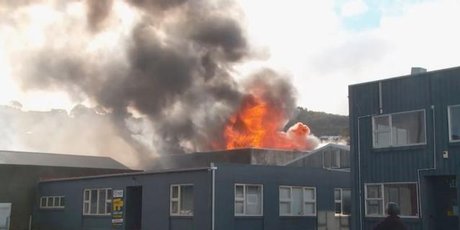 The 26-year-old from the Avalon station was one of 50 firefighters called to battle the blaze, which broke out at the Racetech car seat manufacturing building in Petone just after 3pm on August 23.
Mr Mahupuku, who was dragged from the blaze by other firefighters, suffered serious burns to 33 per cent of his body, mainly his arms and back.
He has since undergone two skin grafts for burns on his back and three other surgical procedures since being flown to Middlemore.
He said he was "blown away" by all the messages of support and assistance he was getting from people around the country.
"Everyone has been amazing. I have been getting a lot of support. Cards and messages have come from the public who heard what had happened," he said.
"There have been lots of messages from firefighters from around the country and lots of visitors."
Colleagues have rallied around their injured mate, with firefighters from around the country visiting him.
Mr Mahupuku said he was able to get out of bed and was taking steps forward in his recovery.
"I was in quite a bit of pain at the start, but it's minimal now and I am on good pain management."
Fire Service region manager, Assistant National Commander Ian Pickard said the service was doing everything it could for Mr Mahupuku and his family and wished him a speedy recovery.
Meanwhile, a full operational review of the incident was underway and was expected to be completed within a few months.
The probable cause of the fire had been identified as an exothermic reaction between the chemicals being used in the process to manufacture racing car seats.
- APNZ