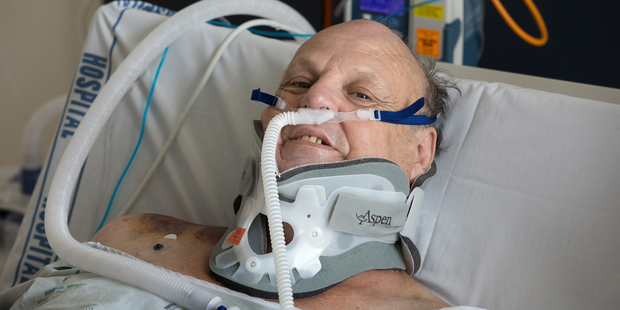 He planned to surprise his friends in Auckland for a cup of coffee, but Hugh Foster now faces an eight-week hospital stay after two alleged bank robbers in a stolen car smashed into the back of his ute on the Southern Motorway.
The 57-year-old's Ford rolled along the motorway at Drury - the crash breaking two bones in his neck, his collarbone and his left wrist.
He now faces weeks bedridden in Middlemore Hospital, hundreds of kilometres from his Tauranga home.
When the Herald visited him yesterday, he had just been released from intensive care. Dark bruising covered his right shoulder and a large neck brace made head movements impossible.
Mr Foster's decision to drive to Auckland - while on a week off from work as a KiwiRail shunter to recover from a leg injury - was a snap one.
"I was going to see a couple of friends and have a cup of coffee with them, then go to the casino. I was going to go back that night. I wasn't planning on staying, but I only got to Drury, that's as far as I got.
"They didn't even know I was coming up. I was just going to turn up at their door."
Mr Foster doesn't remember much from the midday smash - caused by two men who had allegedly robbed the Pukekohe Westpac before fleeing in a stolen BMW convertible.
"I never lost consciousness, but I don't really recollect at all what happened. It was pretty quick. I was driving along and next thing I was hit in the back and thought, 'What's going on here?' I remember getting clobbered and that's about all."
The pair, aged 25 and 32, allegedly disguised themselves and wielded a hammer at bank staff and customers before making off with a bag of cash.
Members of the public tried to chase them and jumped on the bonnet of their getaway car. Undeterred, the pair were seen laughing as a convoy of police cars pursued them, sirens blaring.
Westpac sent Mr Foster flowers and a get-well message, and his brother Murray visited from Thames.
"That's lifted my spirits a bit."
Mr Foster said he wanted to thank the emergency service staff who saved him, and was especially grateful to a policeman who visited his 87-year-old mother in Gisborne to break the news of his injuries.
"To the guys who got me out of the car, I can't thank them enough; I owe them my life, really."
As for the men who caused the accident: "You can't print what I think about them. I don't know who they are or what they look like, but I don't really want to know either."
The men, who were also admitted to Middlemore Hospital and underwent surgery, are facing joint charges of aggravated robbery, dangerous driving causing injury and failing to stop for the police.
The 32-year-old, believed to have been the driver, is now in police custody; his 25-year-old passenger is still in hospital.
Both are due to appear in Pukekohe District Court next Wednesday.