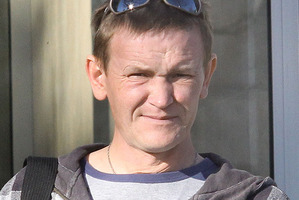 A support carer mistakenly overpaid almost $70,000 who then spent the lot within weeks before fleeing to his Russian homeland, via a Rarotonga stopover, has been sentenced to five months' home detention.
Russian national Anatoliy Burzakov, 41, was only caught when he returned to New Zealand a year after blowing the windfall.
Burzakov was legitimately providing care support for a Christchurch client. His job was to give the fulltime carer of a disabled client a break from the emotionally taxing task.
In December 2010, his wages of $760 for 10 days carer support bounced back to his employers, the Ministry of Health, because the account number was wrong.
He passed on corrected bank details, but during the process of updating his new account, the processing staff member accidentally amended a care organisation's details by replacing them with Burzakov's personal bank details.
He was then paid $12,913.60 on four separate occasions, and $17,246.18 on a fifth, between February 15 and March 29, 2011.
The error was uncovered only after the care organisation queried why it had not been paid, but by then Burzakov had already spent up large and skipped the country.
He stopped off in Rarotonga for a holiday before returning to his native Russia.
A statement of facts confirms: "The defendant continued to spend the funds at a quick rate and by the time the error was identified the defendant had spent nearly all of the money that was deposited into his account.''
When he was finally caught on March 13 last year, Burzakov admitted that he had knowingly spent the money that was not owed to him "in the weeks and months following the payments''.
"Why he's made the decision to return to New Zealand, I have no idea,'' a well-placed source said.
Burzakov earlier pleaded guilty to one charge of theft, amounting to $68,900.
At Christchurch District Court today, Judge Paul Kellar sentenced Burzakov to five months' home detention.
He also ordered him to repay the money to the Ministry of Health at a rate of $40 per week.
Burzakov had worked as a painter in Christchurch, and most recently as a furniture remover, but had been off work with a fractured shoulder.
Defence counsel Claire Yardley said today he has lost his job because of the publicity he had received after his last court appearance.
She opposed a media application to have his photo taken, but Judge Kellar said: ``It's one of the consequences of open justice.''
He is currently on a benefit but hopes to get a job as a painter or a furniture remover in future, and his reparation payments can then be reviewed.
In any case, Judge Kellar told Burzakov in the dock: "You will be making repayments of this debt for a very long time to come.''
- APNZ