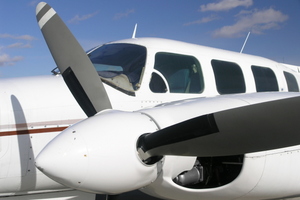 Wrong parts and poor maintenance caused the landing gear to jam on a training flight in Nelson, an investigation has found.
The aircraft was substantially damaged during landing in Nelson Aerodrome on May 11, 2011, but neither of the two pilots on board were injured.
A Transport Accident Investigation Commission report released today said the Piper PA31-350 Navajo Chieftain had a history of landing gear defects, and some of the earlier problems had been fixed using incorrect parts and unauthorised repair work.
The aircraft, owned and operated by air2there, was being flown by a flight examiner and a pilot being assessed for competency.
They were simulating an engine failure during approach to Nelson when the landing gear "unsafe" light was illuminated.
The pilots could see though a mirror the landing gear was only partially retracted.
Attempts to fix the jam using an emergency hydraulic hand pump were unsuccessful.
The flight examiner declared a full emergency, and landed the plane by shutting both engines down before touching the nose to the runway.
Neither pilot was injured but the plane received substantial damage to the propellers and underside of the nose cone.
The TAIC investigation found the jam occurred because of incorrect and faulty parts that had been fitted.
"Improper repair and maintenance practices spanning several maintenance organisations and individual maintenance engineers over several years contributed to a series of defects and incidents involving the nose landing gear assembly on the aeroplane."
TAIC recommended the Director of Civil Aviation take action to improve the level of compliance in the aviation maintenance sector, and widen the range of maintenance that requires a duplicate check.
- APNZ