Police have confirmed that the homeless man who died after being attacked in a central Auckland park last night was stabbed in the upper body.
The man was named by police this afternoon as 54-year-old Steven Harris.
He died in hospital following the attack, which took place in Myers Park, close to Mayoral Drive, shortly before 11.30pm.
Police are still at the scene this evening, carrying out luminol testing to detect blood around a "specific area of interest" under the Mayoral Drive overbridge.
The police Specialist Search Group will return to the park tomorrow morning to continue searching for the weapon used against Mr Harris.
Acting Detective Inspector John Sutton said several items of interest had been recovered from the wider scene today.
"Our objective tonight is to firm up on the attack scene and locate evidence that is not immediately obvious to the naked eye.
"We have not heard from any of the three Asian people - two men and a woman - we understand were in the park at the time of the attack so we'd encourage them to contact us, even if they don't have information that could assist the investigation."
Others in the park saw Mr Harris fall to the ground last night and ran to give him first aid as they rang emergency services.
"They have seen an assault take place, or an attack, and the victim fall to the ground, and then they have gone to assist that victim, along with the police when they arrived," Mr Sutton said, adding that at this stage they had not indicated seeing a weapon.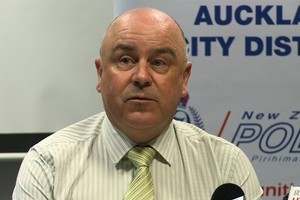 CCTV footage shows the man - described as wearing dark trousers and a light-coloured top - had not been running, Mr Sutton said.
Despite the heavy rain which fell in Auckland overnight and this morning, the scene had been preserved.
"Of course rain does make it difficult, but the attending staff, as soon as they got there, put into play some tents and other things to protect the scene as well as we could," he said.
Mr Harris had recently been living with a friend in Epsom, but before that he was living on the streets.
At a media briefing this morning, police were keen to assure the public there was no connection between this attack and the death of homeless man Edwin Linder, 42, in central Auckland on August 3.
A teenager has since been charged with Mr Linder's murder.
"Rough sleepers by the lifestyle they live are a vulnerable community ... but there's absolutely no indication that there's any kind of link, in fact we're confident that there is no link between the recent incident and the one overnight," said Inspector Andrew Coster.
He said police would not be issuing any safety advice to the city's homeless community in light of this latest attack.
"In our experience the rough sleeping community is very alive to the situation in which they find themselves, there's no particular need at this point, from our point of view, to give them advice," he said.
Mr Coster also assured the public that the city centre is "a safe place".
- APNZ