Workers set off explosives to clear way for 260 students to head down from Mt Hutt in -5C temperatures.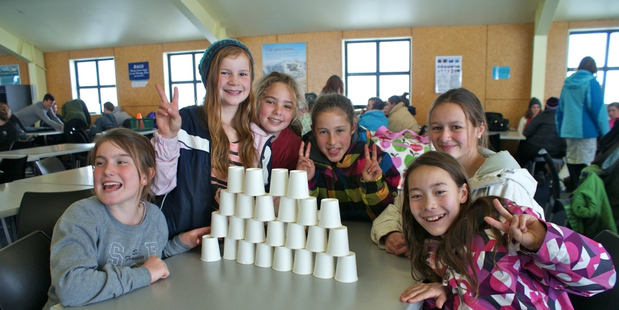 Ski workers set off explosives on Mt Hutt last night to prevent avalanches and clear the way for hundreds of stranded students and skiers to get off the mountain in -5C temperatures.
A cold snap brought high winds and low visibility to the Canterbury skifield yesterday afternoon, closing the alpine access road and stranding 316 people, including 260 pupils from Mt Hutt College in Methven.
Mt Hutt ski area manager James McKenzie said workers were setting off explosives above the road to try to clear it so vehicles could leave.
Everyone was off the mountain by about 2am.
Driving was easier in the dark because there was better definition on the road. During the day it could be difficult in poor conditions to distinguish the snow from the sky.
At -5C it was too cold for the snow to turn into ice on the roads, Mr McKenzie said.
The students were playing games in the cafeteria and were prepared to stay the night on the mountain if they had to, Mr McKenzie said.
Mt Hutt stocked enough food and water to cater for up to 4000 people over a weekend, so could hold out for "days and days".
Stranded skiers not part of the college group had been taken to a room above the cafeteria and given food vouchers for meals of curry, pizza, and chicken.
A large fire was keeping everyone warm, and there was power to charge phones to keep in touch with worried family members.
Mt Hutt College Year 12 student Markus Body, 16, said everyone was relaxed and comfortable.
"[The weather] closed in late morning and we were told to get on the buses so we could go home, but we missed the gap, unfortunately," he said. "It's not too bad. We're warm, there's good food, and we're just hunkering down and socialising."
Parents vented their frustration on Facebook, calling the road closure "predictable" and querying why the school went ahead with the trip when bad weather was forecast.
But Mr McKenzie said the morning weather report said there was a "good probability" of snow and indicated all lifts would be subject to weather.
Kylie Burrowes' 11-year-old son Josh was one of the Mt Hutt College students stuck on the mountain. "Mild panic attack when I first heard about it - 'Eek my baby's stuck on a mountain' - but have recovered since."
Anna Trinder and Karalee Moore, teachers at Avonhead School, were in a car ahead of their Year 7 and 8 students' bus with some parent helpers when the road closed.
The car made it to the skifield, but the buses stopped, leaving the teachers, two parents and Mrs Trinder's 8-year-old son Maaka stuck.
"It's really windy, so even though it's not snowing that heavily the wind is picking up the snow and we couldn't even really see the car in front of us in the carpark at times."
She says there was break in the weather early this morning and they managed to get off the mountain.
"I live in Avonhead, so I got home at 4:30.
"It probably took us about an hour to get off the access, because we were all going quite slow and just all in convoy.
"Once we got down to getting our chains off and stuff it was fine down there, and everyone just went home.''
MetService forecaster John Law said bad weather had been forecast for the mountain. "We've had the warning out since yesterday. We saw this cold front coming up the country and bringing some snowfall to the higher ground of Canterbury so it's going to plan so far."
The weather would improve for most of the country today, although it would still be cold in most places.
Mt Hutt College deputy principal Kaylib Gorrie said the students were with 14 staff and were safe and well.
Southerly snap
Auckland: Overnight low of 6C. Showers tomorrow, clearing later with a high of 15C.
Hamilton: Overnight low of 2C. Few morning showers, then fine tomorrow with a high of 13C.
Wellington: Low of 6C overnight. Rain, cold southerly gales gusting to 120km/h this evening, clearing tomorrow with a high of 10C.
Christchurch: High of 3C overnight. Rain then sleety showers tonight, cold gusty southerlies, clearing tomorrow with a high of 11C.
Dunedin: Low of 5C overnight. Sleety showers, strong cold southerlies easing tomorrow but with morning showers. High of 13C.
Source: MetService
- Additional reporting: Ashburton Guardian, Newstalk ZB
- APNZ