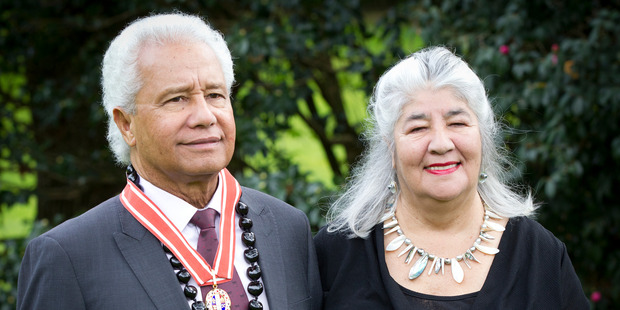 Albert Wendt says he is "really chuffed" to have received the Order of New Zealand insignia that formerly belonged to fellow writer the late Margaret Mahy.
The emeritus professor was presented with the honour yesterday at Government House in Auckland, alongside other New Zealanders recognised in the Queen's Birthday Honours.
Professor Wendt had been unaware the medal had previously belonged to the esteemed children's author. "I'd heard rumours it was someone else, so when the Governor-General announced it was Margaret Mahy I was really chuffed, because she had a tremendous influence on the literature of New Zealand."
The badges presented to members of the Order of New Zealand - the country's highest royal honour, with a maximum of 20 living members at any time - are passed on to new appointees when the holders die. Organisers try to match the history of each medal with its new owner.
The Governor-General, Lieutenant General Sir Jerry Mateparae, said each badge "establishes a whakapapa, a lineage of its own", in this way.
Professor Wendt said being made a member of the order was a "really great honour".
"I'm so glad my society, through this honour, recognises my lifetime's work," he said.
"Because when you're a writer you write on your own. You don't know who's reading the books. It's a tough struggle. But then when people give you these awards in recognition of your work it can make you feel really good."
Sir Owen Glenn, who was formally dubbed a knight at the investiture, said becoming a Sir was "pretty significant in anybody's world".
Sir Owen said he was honoured to receive the title.
"It was very poignant today because my mum and dad are in Eden Gardens [next door to Government House] - their ashes are there - and tomorrow we're memorialising my brother. We're scattering his ashes. So it seems to be a pinnacle of my life to have achieved all this and almost in sight of where they're all buried."
Ross Dallow, father of TVNZ newsreader Simon Dallow, was among others who received honours.
The former police officer was presented with the insignia of a member of the New Zealand Order of Merit for his services to the community.
Simon Dallow said he was enormously proud of his father.
"They talk about role models and heroes, and he's mine."
- APNZ