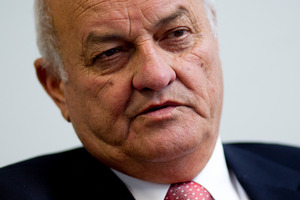 Receiving a knighthood from the Queen is the "pinnacle of my life" Sir Owen Glenn said this afternoon after being awarded the honour.
The millionaire businessman and philanthropist said becoming a 'Sir' was "pretty significant in anybody's world", and added that he felt it was poignant that he was presented with the honour close to where his parents' ashes are scattered.
Sir Owen was among 26 New Zealanders who were presented with honours today, as part of the Queen's Birthday Honours list. He was the only knight.
The ceremony took place at Government House in Auckland, and the honours were presented by Governor-General Lieutenant General Sir Jerry Mateparae.
Speaking afterwards Sir Owen said he was honoured to receive the knighthood.
"It was very poignant today because my mum and dad are in Eden Gardens [next door to Government House], their ashes are there, and tomorrow we're memorialising my brother.
We're scattering his ashes, so it seems to be a pinnacle of my life to have achieved all this and almost in sight of where they're all buried," he said.
Among others honoured today were influential Pacific writer Albert Wendt, who said he was "really chuffed" to have received an Order of New Zealand badge which formally belonged to fellow writer Margaret Mahy.
The Emeritus professor had been unaware the medal, which was due to be placed around his neck, had previously belonged to the esteemed children's author.
"It was a total surprise," he said afterwards.
"I'd heard rumours it was someone else. So when the Governor-General announced it was Margaret Mahy I was really chuffed, because she had a tremendous influence on the literature of New Zealand.
"Our readership loves her work and our society loves her as a person. I admired her greatly."
The badges presented to those appointed a Member of the Order of New Zealand - of which there is a maximum of 20 living members at any time - are passed on to a new member when another passes away. Organisers try to match the history of each badge with its new owner.
Professor Wendt said receiving the Order of New Zealand was a "special award", adding: "I consider it a really great honour."
However, he declined to talk about his role in a new Greenpeace campaign, due to be launched this evening, criticising the Government's position on deep sea drilling.
Professor Wendt denied there was a co-ordinated timing in the release of a statement today.
"There was no co-ordination at all," he said. "I am part of the campaign, but I think I'd prefer to talk about that in the context of the campaign, not today, because I don't want to talk politics today."
Ross Dallow, father of TVNZ ONE News newsreader Simon Dallow, also received an honour today.
The former police officer was presented with a New Zealand Order of Merit for his services to the community, through his role in the police force and various local council boards in west Auckland.
He said he was "overwhelmed" by the honour, and described it as "very rewarding".
His son said he was "enormously proud" of his dad, who he described as a "wonderful role model".
"They talk about role models and heroes, and he's mine," Simon Dallow said.
- APNZ