Steel-framed island assessed as big enough for users' safety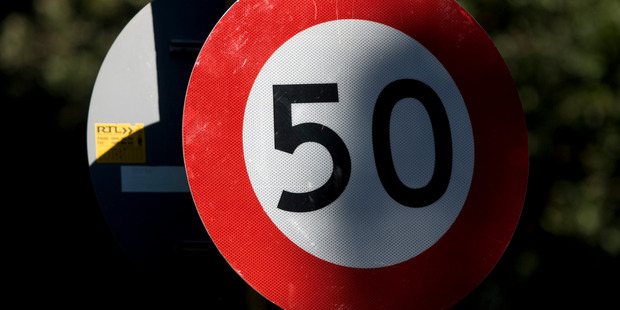 There is a pedestrian island on Shelly Beach Rd in Herne Bay which many school children use to cross to get to Ponsonby Primary School. It is very skinny and if you get a couple of kids with bikes and a mum with a buggy there is very little space. There is a steel frame around the island and it is often crashed into since cars often don't slow down to 50km/h coming off the Shelly Beach off-ramp.
I would hate for a car to crash into this steel frame while there are kids and mums with buggies stuck in the middle of the road. Is there a plan to install lights here? Sam Irwin, Herne Bay.
No. A spokesman for Auckland Transport says that this crossing has previously been assessed for upgrading to either a zebra crossing or traffic signals. The assessment showed that there were insufficient numbers of pedestrians crossing at this point to meet the necessary requirements for these types of crossings.
The width on the island between the steel frames provides sufficient space for a baby buggy/mobility scooter as well as for a couple of bikes. The width of the island is governed by the physical constraints of the road as it is located on a bend so extra road width is required for the tracking of vehicles.
I'm very pleased to see the new roundabout, at the Victoria Avenue-Shore Rd intersection. What a temper-calmer it is! Are there any plans for one at the Felton Mathew Avenue/St Johns Rd junction? That would save a lot of torn-out hair too! Noni Kenny, Remuera.
Auckland Transport has previously investigated installing a roundabout here but it is not a priority, as there has been only one reported crash at this intersection in the past five years. There are broken yellow lines to provide good visibility when exiting Felton Mathew Avenue onto St Johns Rd and a right turn pocket and a flush median is also provided on St Johns Rd to assist traffic turning right into or out of Felton Mathew Avenue.
I have repeatedly asked Auckland Council to fix Aranui Rd in Mt Wellington, last year in October and again in November via email and by phoning them. They told me last year that it will be fixed early in the New Year. We are now in the month of September. The road still has not been repaired and it is getting worse by the day with the amount of traffic going over it. I was wondering if you could shed some light on this for me please. Paula Bol, Mt Wellington.
Good news at last. Auckland Transport advises that there are definite plans for significant work to be undertaken on Aranui Rd in the current year. A design is being prepared for two sections of this road, and work is to commence later this year on the first stage of this rebuild covering Aranui Rd between Whitford Rd and Ruawai Rd.
The second stage, covering the intersection of Aranui and Mt Wellington Highway, requires additional work around the open watercourse before any road upgrade.
AT's intention is to make a start on this second stage in 2014/15. Before starting on the major road works limited repairs to the existing road surface will be done in order to maintain it.