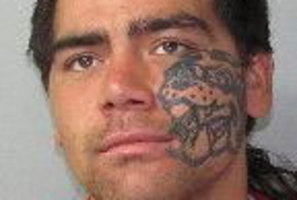 A suspect is in custody after a stabbing at the Napier courthouse today.
A man was stabbed in the public waiting area about 11am. He received cuts to his arm and was taken to Hawke's Bay Hospital after being given first aid by court staff.
A witness said two men argued before one left the court and returned with a knife. After the stabbing one of the men fled.
The knife was "big enough to do some damage,'' the witness said.
Police searching for Napier man Johnny Braam after the attack found him at a residence in the city.
A Justice Ministry spokesman said an investigation had been launched into the incident.
"The weapon appeared to be a knife and there will be an investigation into how it was brought into the courthouse.''
According to Justice Ministry figures, about 7000 "potential weapons'' were confiscated by New Zealand court security staff during the 2011/12 financial year.
More than 1.3 million people were searched during the 12-month period.
Confiscated weapons included knuckledusters, a metal bar, dozens of knives, ammunition, a piece of wood with protruding nail and a ball and chain, Justice Ministry information showed.
For more articles from this region, go to Hawkes Bay Today