Rescue chief says responsibility on parents and coaches to acquire first aid skills for critical early intervention.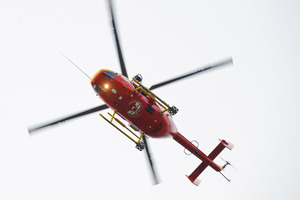 When the Auckland Westpac Rescue Helicopter flies out, it's not just for high-drama rescues and critically injured patients.
Almost 100 missions have been logged already this year for people injured playing sport - the majority young people playing for smaller clubs around the Auckland region.
The callouts, which range from serious spinal injuries to broken bones and suspected concussions, have prompted one of the most experienced crew members to call on coaches, parents and organisers of contact sports to take more responsibility from the sidelines.
Crew chief Herby Barnes said when a player suffered a head, neck or spinal injury, "early intervention" was crucial.
"Not doing the right thing can lead to further injury, or future effects on the patient down the line," he said.
"They can be impaired for the rest of their lives."
There have been 564 missions logged this year, compared with 506 at the same time last year. So far this year, 97 missions have been sports-related.
The helicopter attended sports injuries at mostly isolated and rural areas that had no St John medics or sports doctors on site.
Mr Barnes said it was important in those areas that people volunteering to coach or manage sports teams or players took the initiative to get adequate first aid training.
Parents should also brush up on their skills if they were willing to put their kids out to play a contact sport.
Mr Barnes said that ideally, clubs or organisations would offer basic training or education. But the cost of that was not always realistic.
"In most of the jobs we go to, people know what to do, they inherently know to immobilise the injured person and wait for us," he said.
"But I have been present on sidelines when I haven't been working, where I've seen people rush up to see if the [injured person] can get up and walk away. I don't care if it's a final or semifinal, as soon as someone goes down and is feeling pain you should try to keep them right where they are."
Mr Barnes is keen to see more early intervention awareness promoted through all sports clubs.
"It's about understanding the basics. It can count hugely in terms of not exacerbating the injury. Clubs have a responsibility to at least offer an awareness ... and parents, if they want their kids to get into sports, especially high-contact sports like soccer, league and rugby."
The New Zealand Rugby Union has, for many years, been running Rugby Smart, a coaching and refereeing safety course run in partnership with ACC. The programme is compulsory for all coaches of rugby teams at Under-14 level.
It also runs a SmallBlacks Development Programme for coaches of younger players. However, first aid and early intervention are not part of the programmes.
"Obviously Rugby Smart fills part of the gap, but first aid training is more at the grassroots level of the game," said NZRU spokesman Mike Jaspers.
He said training outside Rugby Smart "really lies with the clubs and unions".
New Zealand Rugby League spokeswoman Philippa Ivory said the organisation was "very proactive" about such training.
It offered a free "Fundamentals" course across New Zealand for coaches which includes sections on injuries, first aid and concussion.
Starship hospital paediatric emergency medicine specialist Mike Shepherd said he saw "a fairly steady stream" of sport-related head injuries in children and young people, particularly at weekends.
"The vast majority of them are not severe. However, they can result in concussion and ongoing problems associated with this.
"Usually, these do not need hospital admission but care with return to sport. Avoiding further injuries during the recovery phase is very important."
Sporting accidents
There have been 564 Westpac Rescue Helicopter missions logged this year, compared with 506 at the same time last year.
Of this year's missions, 97 have been to sporting-related incidents:
Swimming 18
Boating (including yachting) 15
Tramping 10
Horse riding 8
Rugby 7
Motocross 7
Surfing 6
Mountain biking 5
Cycling 5
Motorbike racing 4
Rock fishing 3
Quad biking 2
BMX 2
Paragliding 2
Polo 1
Skateboarding 1
Diving 1