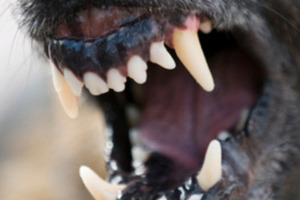 Two Gisborne farmers have lost close to $5000 worth of sheep to two roaming dogs in the latest in a series of attacks.
Warwick Stevens and Bob Bryson both graze sheep at Patutahi and Waituhi, 25km outside the city. Now they pack their gun in the back seat after suffering loss after loss.
The latest attack was on Saturday night, when two dogs went on a four-kilometre sheep-killing rampage, leaving about 20 bloodied dead carcasses, a dozen injured sheep and more than a dozen orphaned lambs.
On Sunday, Mr Bryson got a call from a neighbour to say the dogs were back and he went out and shot them.
Yesterday, the dogs' bodies lay on top of the pile of more than a dozen dead ewes on the back of a ute. In the paddock were dozens of stressed and traumatised ewes and lambs.
Mr Bryson is trying to give away the little orphaned lambs but knows more will be lost because the stressed mothers will stop milking.
Mr Stevens says it is an ongoing problem.
"I graze 6000 lambs around the flats and every year there is trouble here.''
Last week, a squash-growing company that grazes land in the area over winter shifted all of its sheep to another district because it could not sustain any more losses.
With little help forthcoming from the Gisborne District Council in the past, Mr Stevens decided to take action.
"I went to every house in the area to tell them we were laying poison and shooting dogs on sight. There are 32 dogs at Waituhi - now there are fewer because we have shot seven this week. There are more dogs than people there and they are not registered.''
GDC animal control spokesman Sarwan Kumar said the council was aware of the problem.
It was notified last week about the latest attack. Animal control officers visited the area but, despite making inquiries of locals, were unable to identify the dog or its owner.
By the time the council arrived yesterday, the farmers had disposed of the bodies so the council was unable to scan the dogs for a microchip.
There are definitely more dogs than people - the area known as Lavenham/Patutahi has a known dog population of 179 dogs and 64 owners, says Mr Kumar.
The council will do a house-to-house visit of the area this week, he said.
Both farmers blame the owners and not the dogs.
"Every dog has the potential to kill. They will kill if they are allowed - our dogs would, too, and that is why they are either locked up or with us,'' Mr Bryson said.
"Once they have a taste of blood they are away.''
The two shot dogs had sheep-killing down to a fine art.
"The injuries are all the same - the dogs work together - one on the neck and one on the leg.''
- APNZ