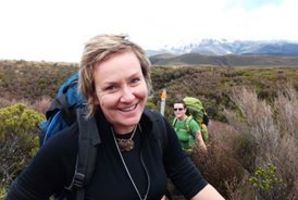 A British-born TV director who died in a 150-metre plunge while snowboarding at Whakapapa ski field has been described by friends as the "ultimate Kiwi thrill-seeker''.
Caroline Johnstone, 44, had gone beyond danger signs when trying to retrieve a lost snowboard and slipped on ice in the accident on Saturday.
She fell 15m over a cliff, before tumbling down a further 150m, police said.
Now, her friends and civil union partner Chrissie Lahood are coming to terms with her death.
Ms Lahood, who lived with Ms Johnstone at Te Horo on the Kapiti Coast, had been skiing with her earlier and was waiting at the carpark for her partner, who never came back.
Today she was too upset to speak, but close friend Pete van Schaardenburg paid tribute to the woman who "lived life to the fullest''.
The couple were "soulmates'', he said.
"She is devastated. They've known each ever since Caroline first came to New Zealand in 1999, had been in a relationship for 11 years, and had a civil union in March 2006.
"They're the most amazingly generous couple, amazing hosts and entertainers, always bringing groups together.
"Of all our mutual friends, they had the soundest, strongest, most together relationship. They were soul mates.''
Johnstone had emigrated from her homeland of England, where she had worked as a journalist and broadcaster, in 1999.
She immediately took to the outdoors, learning to surf, and became an avid snowboarder and scuba diver.
"She would give any action sport a go,'' said Mr van Schaardenburg.
"Even though she's a Brit, she really is the ultimate Kiwi thrill-seeker. She lived life to the fullest.''
Johnstone had been skiing with friends earlier in the day but was on her own when she was walking back from the West Ridge chairlift towards the Waterfall T-bar in an area known as the Amphitheatre on Saturday and lost grip of her board.
It slipped down hill and she went after it, said Constable Conrad Smith of National Park police.
"She's gone past warning signs and dangers signs to look for her board and she's fallen off a cliff,'' Mr Smith said.
A nearby climbing party, an unrelated group, witnessed the fall and raised the alarm, he said.
The climbers arrived by her side shortly before Whakapapa Ski Patrol about midday.
A doctor was called to the scene who pronounced her dead a short time later.
"It's very sad,'' said Mr Smith.
"It again highlights the need for people to be aware of warning signs.''
Ms Johnstone, who was "stepmum'' to Ms LaHood's two children, Scarlett, 23, and George, 21, had just completed a Vipassana meditation retreat in Auckland.
Mr van Schaardenburg said it had been a "life-changing'' experience for her.
"She was a hugely intelligent woman, an inspirational character, she had a love of life and doing things, but also a compassionate heart for people going through hard times.''
Her funeral, which friends are calling 'The Caroline Show', will be held at 2pm on Friday at the Otaihanga Boating Club, and in "true TV industry style'', a wrap party will follow at the couple's Te Horo home.
Mr van Schaardenburg also hopes to get the funeral livestreamed so her many friends around the world, who can't make it, can tune in.
Her father Alfie, from south London, arrives in New Zealand tomorrow, as well as Ms Johnstone's sister Alex and 10-year-old nephew.
- APNZ