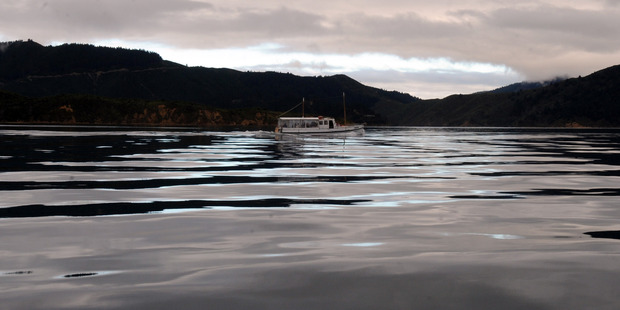 Shorelines searches are being carried out for a holidaymaker who fell from a boat into the freezing waters of the Marlborough Sounds in the early hours of today.
The 45-year-old Blenheim man had been at Furneaux Lodge playing pool and "having a few beers'' with his daughter and her boyfriend.
Bar staff say the trio said they were going to stay the night on their 14-metre launch tied to the jetty.
It appeared they then decided to leave the lodge, and were motoring through Endeavour Inlet of Queen Charlotte Sound - probably bound for the man's bach at Marine Heads, near Ships Cove - when it was believed the father fell in about 2am.
He was not wearing a lifejacket, police say.
His daughter and her boyfriend raised the alarm and a search was launched.
They are now being interviewed by police who, along with the Coastguard, are conducting shoreline searches in the Endeavour Inlet area.
The police launch Lady Elizabeth IV with the police dive squad onboard has arrived at the scene from Wellington to assist with the marine search.
Officers are also talking to Furneaux staff who walked the three-person party from the lodge to the launch shortly after midnight.
Furneaux Lodge owner Geoff Faulkner, who was staying in Nelson, was notified by police when the alarm was raised.
He alerted his general manager, who has been out searching all night, in what's been described as flat, calm conditions.
However, Mr Faulkner was concerned that the man had not yet been found.
"It's cold water,'' he told APNZ.
Mr Faulkner said the man - who was not a regular - had been staying at his bach in the Sounds when the three of them boated to Furneaux to "play pool and have a few beers''.
"It was just a quiet Monday night. I've spoken to the bar manager. Nothing untoward happened in the night,'' he said.
"They left at midnight after playing some pool and were going to stay the night on the boat which was tied at the jetty and come back up in the morning for breakfast. But they didn't, they decided to leave obviously.''
Asked if alcohol could have been a factor, Mr Faulkner said: "We don't believe they had that many. The barman who walked them down to the boat didn't think they were drunk.
"It just looks like an awful tragedy, after deciding to take the boat out. It's a horrible, terrible thing.''
----
Do you have more information? Email us here.
----
- APNZ