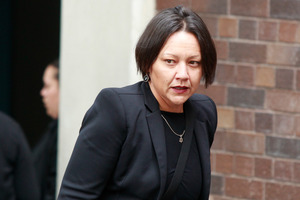 The Law Society has refused to issue a new practising certificate to disgraced lawyer Davina Murray.
Murray was found guilty last month of smuggling contraband to convicted murderer and rapist Liam Reid in Mt Eden Correctional Facility in 2011.
The Auckland lawyer's name has now been removed from the register of lawyers, which means she is no longer allowed to offer legal services or describe herself as a lawyer, barrister or solicitor.
Law Society spokesman Geoff Adlam confirmed the Society had declined to issue Murray with a new practising certificate. He said her name was removed from the register this morning.
Under the Lawyers and Conveyancers Act, all lawyers must apply for a new practising certificate each year. The Law Society can refuse to issue a practising certificate if it believes a person is not a fit and proper person to hold one.
Murray has the right to appeal the Law Society's decision to the Lawyers and Conveyancers Disciplinary Tribunal.
During her trial, the Auckland District Court was told that Murray smuggled an iPhone, cigarettes and lighter to Reid.
The Crown said Murray and Reid's relationship went beyond that of client-lawyer, but she described the police's warrants as a fishing exercise and said they were unlawful.
Murray is due back in court on Friday, when she will argue for a discharge without conviction.
- APNZ