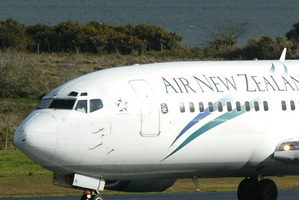 Mystery surrounds the cause of an incident on an Air New Zealand domestic flight last week which saw more than 70 passengers don emergency oxygen masks.
Air accident investigators are using a "process of elimination" to uncover why Air New Zealand flight 414 from Wellington to Auckland suddenly lost cabin pressure, causing the masks to automatically deploy.
The Boeing 737-300 aircraft has been grounded while the Transport Accident Investigation Commission (TAIC) probe is ongoing.
An internal inquiry by Air New Zealand was also unable to find any fault with the aircraft's pressurisation system. "However, it is being replaced as a precaution and the aircraft will then return to service," a spokeswoman said today (Mon).
Air New Zealand engineers are working with TAIC experts, along with representatives from Boeing, to get to the bottom of the problem.
"Nothing obvious has presented itself yet," said chief investigator of accidents Captain Tim Burfoot.
"We're using the standard process of systematically working our way through all of the aircraft's systems. The process of elimination will eventually take us to the answer."
After leaving Wellington at 7.30am bound for Auckland, the flight struck a problem while descending over Raglan.
The pilot has been praised for his quick actions in bringing the aircraft down from 33,000 feet to around 7000 feet, where cabin pressure eased, and relieved passengers were told by cabin crew they could take their masks off.
The plane landed at Auckland Airport without incident and was met by emergency rescue vehicles.
It was immediately taken out of service and towed into quarantine - off limits to the carrier's engineers - while two TAIC investigators travelled to Auckland to begin the inquiry.
After initial checks came up empty-handed, the investigators were analysing voice and data recordings which were handed to them by Air New Zealand on Friday.
Captain Burfoot said he was unsure how long the investigation would take.
"The longer it goes on, it just means it's just one of those problems that's hard to find," he said.
"Occasionally we go to an accident scene and the answer is obvious, staring at you in the face.
"And on other occasions, you've got to work through a heap of material to get the answer, and this is proving to be one of those.
"It doesn't mean to say it's any more or less serious."
If any major faults are uncovered, which requires alerting other carriers around the world as well as the Boeing manufacturers, they would be told immediately, Captain Burfoot said.
MP Claudette Hauiti was on the flight, and said passengers were calm, but her oxygen mask failed to drop.
Aviation commentator Peter Clark said it was not uncommon for some oxygen masks to fail, but that: "Nobody was in any danger at all."
Olympic triathlete Hamish Carter, who was also on the flight, said the experience was "a bit of a shock".
"It was relatively scary for a while; not something you'd expect to happen."
Air New Zealand has 11 Boeing 737-300s in its fleet, with an average age of over 15-years-old.
The planes are progressively being phased out and replaced by new Airbus A320s which are bigger and more fuel efficient.
- APNZ