Bruce Morris spends another day in the auction room for a snapshot of what's happening out there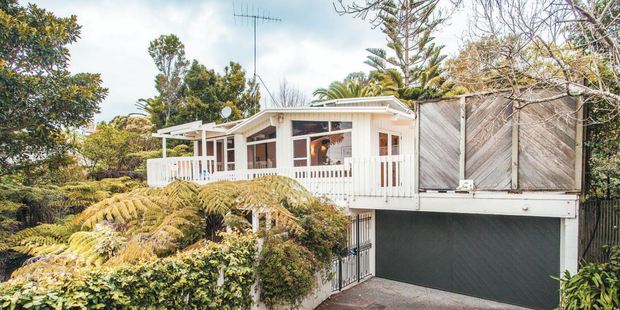 As the Prime Minister and his cohorts try to talk down Auckland house prices, the auction room is full of ear plugs. No one wants to know about the dangers of housing bubbles when all the evidence so far is that today's eye-opener is probably tomorrow's bargain.
As the bidding falters at $750,000 this early August day on a modest three-bedroom home in an unpretentious suburb, the auctioneer jollies the bidders: "Come on, it'll probably be worth a million dollars by next week!"
It's a joke obviously, and the laughter helps to relieve the tension. Still, you get the feeling plenty of people in the room don't find the gist of the suggestion all that silly. It may not be next week, of course, but perhaps before the year is over.
It's the sort of conviction words of apparent wisdom can't breach at the moment as greater Auckland continues to ride a momentum that started in the inner suburbs early in 2011 and is now entrenched in all corners of the city.
On this auction day in the Barfoot and Thompson downtown rooms, the offering (excluding a commercial building and a section) is a modest 41 residential properties. Listings are always low in mid-winter, but these are lean pickings - an illustration of the lack of stock across the city that's driving prices.
Most of the properties fall in the wide area between Waiotaiki to Ranui and there's nothing south of Lynfield, Onehunga, Mt Wellington and Howick. The really heated battles come in quite blue-collar suburbs and vendors in some more highly regarded areas leave disappointed.
If all the properties destined to be auctioned this day had actually reached the room, the list would have had greater weight. But 16 homes sold during their marketing programmes, leaving some owners to wonder whether they could have done rather better running the full course to auction day.
The real test of this is the practice of using a formal pre-auction offer as the reserve. In these cases, the property owner is happy with the early offer, but takes the agency advice to test the market and see if they can squeeze a better price. It works best, of course, when two or three people are showing strong interest.
The day before this auction, a Barfoot and Thompson North Shore session featured seven properties with offers acceptable to the vendors - and those offers became the reserves. Five of the seven eventually sold above reserve, leaving very pleased vendors.
So there's special interest in the downtown rooms at two lots that come with attached agreements. The first, at 403 Beach Rd, Mairangi Bay, opens at its $1.25m reserve and draws no further interest. But the second produces a spectacular result.
The three-bedroom brick and tile home on 880sq m at 44 Routley Drive, Glen Eden, would be rated first-home-buyer territory, with a July 2011 rating capital value of $330,000. The owners received an offer of $500,000 and found it quite acceptable, but because of the level of interest decided to take it to auction. They will never regret that decision.
A wave of bidding, starting in $10,000 lifts above the $500,000 reserve and ending in a series of $500 rises, finally ends at $602,000 - a staggering 82 per cent up on CV and a cool $102,000 above reserve. An example of how auction room pressures can allow the heart to rule the head? With average price in Glen Eden not much over $400,000 - and a fairly uniform housing stock - you'd have to wonder.
But in dollar terms, the Glen Eden property isn't star of the day.
That status goes to 39 Whitmore Rd, Mt Roskill, a tidy yet modest three-bedroom weatherboard bungalow sitting on 819sq m and carrying a rating valuation of $530,000. The owners settled on a reserve of $630,000 and the bidding races through that level, with auctioneer Marian Tolich battling to keep up with the flow. "Hands and legs are waving all over the show!" she laughs.
The waving finally stops at $770,000 - a clear $140,000 (or 22 per cent) above reserve.
In a similar category is 6 Clairville Cres, Waiotaiki, a smart three-bedroom weatherboard home on an elevated 778sq m section with great views over the Tamaki Estuary.
The "now selling" sign lights up at $800,000 and the auctioneer's hammer finally falls at $930,000 - 63 per cent above the two-year-old rating CV and 16 per cent beyond reserve. An hour before auction, the owners are happy to get $800,000 for their pride and joy... and are surely elated when they walk away with $130,000 extra in their pocket. You can almost hear the Reserve Bank's sigh.
The leaky home furore, tightened local authority restrictions and requirement for greater vendor disclosure have made people generally more wary of buying property without the appropriate consents. Auctioneers always stress consent deficiencies to make sure there's no misunderstanding, and in normal times the lack of a permit will reduce interest and the price.
However, when supply is being gobbled up by demand caution can sometimes be thrown to the wind. A case in point: 10 Avondale Rd, Avondale.
The auctioneer is very clear with this 1092sq m site containing two four-bedroom houses and a two-bedroom sleep-out stuck between them. The successful buyers will be relying on their own judgment to buy the property on an "as is, where is" basis with no comeback to either agency or vendor.
It would be enough in normal times to scare off most people, or severely reduce the price. But bidding starts at $650,000 ($70,000 above the rating CV), races past the reserve of $830,000 and finally stops at $957,000.
"It makes you wonder," whispers one onlooker. Indeed it does, but it may also say something about the value of land in a squeezed central city.
As the auction flows, some great prices are achieved - such as 163B Wellington St, Howick - sold at $647,000 (reserve $625,000), 2/11 Karaka St, New Lynn - sold at $416,000 (reserve $380,000), 3/67 Campbell Rd, One Tree Hill - sold at $555,500 (reserve $530,000), 33B Avondale Rd, Avondale - sold at $633,500 (reserve $590,000), 3 Himalaya Cres, Lynfield - sold at $1,011m (reserve $950,000) and 679 Hillsborough Rd, Mt Roskill - sold at $612,000 (reserve $575,000).
On days like this it's easy to get caught up in the action and ignore the inaction. While adding the 16 lots that sold beforehand will change the impression, it's worth noting that 20 of the 41 lots don't sell. Seven of them draw no bid at all, most of them units and three of them in prime suburbs - Remuera, Mt Eden and Mission Bay.
It suggests that while there continues to be some "irrational exuberance" that may later be regretted, it is not across the board. Even in the trying times of an Auckland sellers' market and relentlessly rising prices, most buyers are trying to stay cool.