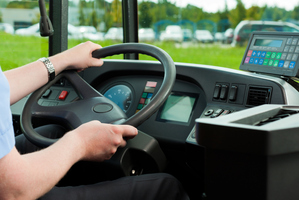 A Valley Flyer bus driver who was more than three times the drink-drive limit has been told by a judge "people that went onto your bus place their life in your hands and you let yourself down".
Jermey Jon Shannon, 44, from Upper Hutt, appeared in Masterton District Court today and pleaded guilty to exceeding the breath alcohol limit.
Police caught Shannon with a breath alcohol reading of 1317 micrograms of alcohol per litre of breath on August 13, at about 11.25am, after Shannon lost control of the Mercedes-Benz transport bus he was driving, went up a curb and crashed into a tree, in Forest Rd, Upper Hutt.
Damage was done to the front of the bus but the one passenger on board was uninjured.
Shannon held a transport services licence and was working for Valley Flyer at the time.
Defence lawyer Ian Hard said Shannon's "life of alcoholism" had overtaken him, he had been out partying the night before and "made the mistake" of going into work.
"Prior to this he had not had any problems with drinking and driving, this is an occasion he should not have been at work, he'd been drinking the night before...it was misjudgment."
Mr Hard said Shannon was an experienced driver, of three years, and had lost his job as a result.
"This was the point in which he absolutely realised things had to change, he's lost his job, it's cost him dearly in his personal life."
Shannon had since attended Alcoholics Anonymous and was considering going to rehabilitation and seeing a psychologist, Mr Hard said.
He said Shannon was "extraordinarily remorseful" and had relayed a personal apology to the victim, as well as writing a heartfelt letter.
"The remorse is real and the desire to stop drinking and to stay sober that's all very real.
"Thankfully the accident didn't result in any injury whatsoever."
Judge Tony Walsh said the court was concerned about Shannon's very high reading and noted he had a conviction for exceeding the alcohol limit in 1987.
"As a bus driver there was an obligation on you to insure that you were fit to drive."
Judge Walsh said Shannon had, however, faced up to what he had done.
He sentenced Shannon to 150 hours' community work, 9 months' supervision and disqualified him from driving for 15 months.
Judge Walsh also ordered him to attend any alcohol and drug counselling directed by probation.
For more articles from this region, go to Wairarapa Times-Age