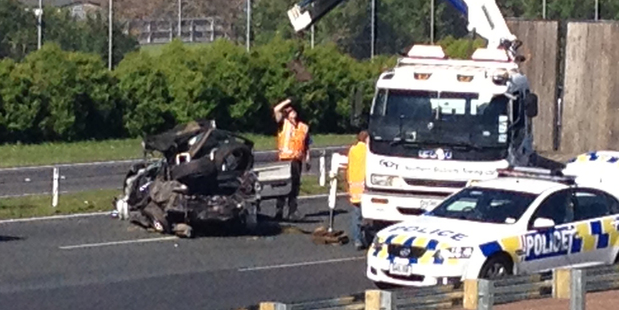 Two bank robbery suspects were chased by police at speeds of up to 140km/h on Auckland's southern motorway early this afternoon before crashing into a Ford Falcon utility truck.
The alleged robbers and the driver of the ute were all injured in the crash, with both vehicles rolling after the collision.
Counties Manukau police commander superintendent John Timms said the partially-masked robbers seized an unspecified amount of money from the Westpac bank in Pukekohe shortly before noon today.
There were about 12 people in the bank at the time of the robbery and one of the suspects was armed with a hammer, but nobody was injured in the incident.
The robbers left in a maroon BMW car, but were soon spotted by police on State Highway 22 near Drury and chased on to the Southern Motorway, where the collision occurred when the BMW drove into the rear of the ute near the Karaka interchange.
The two male suspects - aged 25 and 33 - were taken to Middlemore hospital with head injuries, while the 57-year-old driver of the ute suffered a neck injury. All three are classified as seriously injured.
No one else was being sought, police said. A weapon matching the description of the one used in the bank robbery, as well as the stolen cash, was recovered from the wrecked BMW.
The motorway was closed northbound from Drury for several hours.
The incident has been referred to the IPCA.
Tina Youngs, a property manager who works at Remax across the road from the bank, said the robbery was "unbelievable".
"We saw what we thought was people having a fight," she said.
"And then we realised it was obviously something more than that."
She saw the robber take off, followed by man in a brown coat.
"The gentleman in the coat tackled (the robber) and held him down... somehow he managed to get away."
Ms Youngs then saw the robber take off in a stolen car.
Police believe the offenders may have been filmed by a witness on a cellphone, and are keen to hear from this person or anybody else who may have information.
Contact Counties Manukau Police on 09 261 1300 or anonymously through Crimestoppers on 0800 555 111
Do you see the robbery or crash? Contact the Herald here.
- APNZ