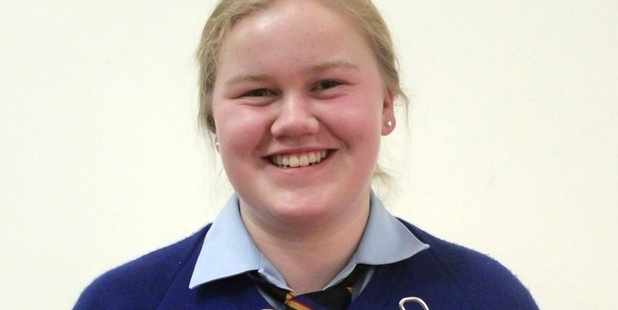 The family of a Masterton teen have gathered at her hospital bedside after she narrowly survived a high-speed crash that claimed the life of her 22-year-old sister near the family home on Friday.
Wairarapa College student Kaitlin Buick, 16, who last year was named a top scholar at the school, was sole passenger in a car driven by her older sister Shannon on Paierau Rd near Masterton.
Their vehicle was travelling north about 6.15pm near the Paierau Rd bridge when it was in collision with an oncoming car driven by a young man, according to Masterton fire station officer Garry Nielsen.
He said Shannon had been killed in the collision and fire crews had to clear the road, which was congested with heavy traffic, to allow a rapid extrication of Kaitlin, "who was in desperate need of medical treatment - it was time critical".
Mr Nielsen said the airbags had been deployed in both vehicles, which he believed would have had impact speeds of more than 80km/h each on the stretch of road which has an open speed limit.
The male driver received moderate injuries in the collision, Mr Nielsen said.
Traffic was diverted for several hours while the serious crash unit gathered evidence on Friday night.
Kaitlin underwent surgery in Wellington Hospital on Saturday morning for her injuries that included two broken legs, and a broken elbow and wrist, according to family spokeswoman Kay Pankhurst.
Mrs Pankhurst said the sisters' parents Ian and Linda, brother Jason and sister Nicole were keeping a vigil at Kaitlin's bedside, who "is getting there - she's not out of the woods yet but she's doing okay".
"She had surgery and they're really pleased with how it went. We still don't know what happened - that will be up to police - but Kaitlin does know about Shannon.
"We didn't say anything initially but we had to, she kept asking after her." Shannon had just finished work on nearby Ngaumutawa Rd, Mrs Pankhurst said, and had picked up her baby sister on the way home from her after-school job at Masterton Mitre 10 Mega further down the street.
Mrs Pankhurst, who also lives on Paierau Rd, said Shannon had been living back at the rural family home after earning an animal science degree at Massey University and was putting in hours as an SPCA volunteer and working part-time at Seeds and Cereals Masterton, which had last week offered her a full-time job.
"Shannon was the pick of the bunch well and truly - she was an awesome kid. Farming was definitely her thing and she loved animals. She was an amazing kid. Just so helpful and willing to help anybody.
"It's just an absolute tragedy, so hard to believe, to think that two seconds earlier or two seconds later and it may never have happened."
The fatal collision was the first in a string of unrelated weekend crashes on rural roads in the region, including a car that ploughed through a fence on Ponatahi Rd near Carterton before rolling shortly before 5pm on Saturday and a vehicle that plummeted down a muddy bank bordering Otahome Rd east of Masterton just after 2am yesterday.
Belinda Beets, fire communications shift supervisor, said a woman driver had been left with minor injuries in the Ponatahi Rd crash and the driver in the Otahome Rd crash had also escaped serious injury.
For more articles from this region, go to Wairarapa Times-Age