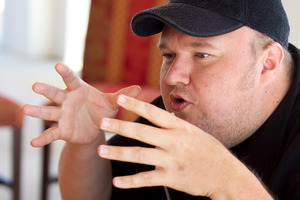 Prime Minister John Key has dismissed as a stunt Kim Dotcom's plans to begin a political party.
The Herald on Sunday reported yesterday that the internet mogul was planning to start a political party with the aim of gaining the 5 per cent of the vote required to get into Parliament.
Dotcom told the paper "It is much too early to say anything about a new political party", but later tweeted "My embryonic NZ political plans leaked by whistleblower. Still looking for partners. Not ready yet".
Mr Key today did not take the plans seriously.
"I think it's all part of his campaign to stay here. Nice idea but ... I wonder where he'd get his candidates from."
Asked whether he thought it was a publicity stunt, Mr Key told TVNZ's Breakfast programme: "It's like everything we see from the guy. He wants to stay here and fight his extradition treaty. He has very good PR people. Let's see how it goes."
Mr Key laughed off the suggestion they might one day be in a coalition government together.
- APNZ