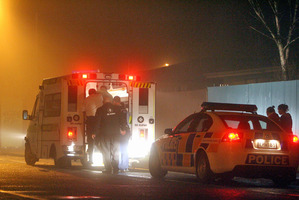 It was a 'holy cow' moment for motorist Wayne Timpson on Saturday night.
The Methven resident was on his way home from Ashburton, where he had been undertaking back-up physio work for the Mid Canterbury Rugby Development Squad, when he ploughed into three cows at about 7pm.
"Next thing, with no warning, here were the cows standing right in front of me and I was still doing 100 kilometres per hour," Mr Timpson said.
He had moments earlier dipped his lights from high beam as a car pulled out of a driveway. He came across the cows as he drove around Bland's Corner.
"The air bag went off when I hit the first cow, when I hit the other one the passenger one went off. I can remember a cow's head hitting the passenger's side windscreen."
His car veered onto the other side of the road, before coming back to the left side, almost hitting a power pole, and going through a farm fence. He ended up where the cows should have been - in a paddock.
"It's an experience you don't want to go through I can tell you."
The Methven Volunteer Fire Brigade, police and ambulance responded. Mr Timpson was treated for cuts and bruises at Ashburton Hospital.
Brigade station officer Andrew Leask said Mr Timpson had been lucky the main impact had been to the passenger's side. His car, a Subaru Legacy, was a complete write-off.
Two of the cows had been killed instantly, while the third had to be put down.
Mr Timpson hopes his experience acts as a reminder for farmers to keep stock secure, and to Mid Canterbury motorists that they live in a farming area.
"They (farmers) can't be sitting out in the paddock watching the cows 24 hours a day, no-one knew they had got out," he said.
Mr Timpson was yesterday working as a starter's assistant at the Methven Races, where it seemed many had heard about his experience.
"They are all giving me hell, asking have you got any cheap beef for sale."