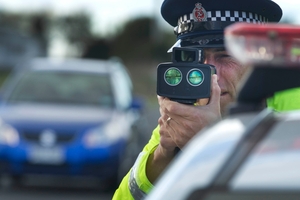 Police caught more than 300 speeding motorists in a weekend blitz targeting Auckland skiers using a back road to travel to and from Mt Ruapehu.
Three police districts were involved in Operation Southpark, in which five speed camera vans were parked along a 150km stretch from the Bombay Hills to Eight Mile Junction, south of Te Kuiti.
The area included State Highway 39, a 70km alternative to State Highway 1.
Nine patrol cars also roamed the region.
The blitz targeted motorists going to the mountain on Friday between 3pm and 9pm, and those returning between 2pm to 7pm yesterday.
The Herald was invited to observe the campaign at Ngahinapouri, south of Ngaruawahia, near a speed camera site.
The highest speed recorded was 138km/h on Friday, by a southbound car with ski racks on its roof.
The same day, a Malaysian tourist was caught speeding twice within 10 minutes.
The driver was travelling north when he was stopped for doing 124km/h on the open road south of Pirongia.
Minutes later he was pulled over again by another officer for doing 72km/h in a 50km/h zone in the village.
Police are now checking their cameras to see if the man was also photographed speeding elsewhere on the route.
A woman in her 50s driving a late model Mercedes, on her way to a friend's house, was found north of Te Awamutu to be almost twice over the legal alcohol limit. She blew 777 micrograms of alcohol per litre of breath. The limit is 400mcg.
Yesterday, police pulled over a couple in a black Cadillac SUV, who were going to the mountain with their children in the back seat, travelling at 84km/h in a 70km/h zone at Ngahinapouri.
It is understood the woman got out of the car and yelled obscenities at officers.
The blitz involved police from the Counties Manukau, Waikato and Central districts. Police snapped anyone travelling at more than 111km/h on the 100km/h route.
It was set up after four motorists were snapped by speed cameras in July doing 183km/h, 171km/h,157km/h and 151km/h on SH39. All are facing court action.
The Waikato road policing base officer in charge, Senior Sergeant Kevin Anderson, said the excessive speeds were unacceptable.
The operation was aimed at slowing motorists travelling to or from Mt Ruapehu during the main ski season, between July and September.
Mr Anderson said heavy traffic volumes on the back road, combined with the fact that it was windy, not well lit and had few passing lanes, were a "recipe for disaster".
"You - let alone the people you hit, or your passengers - have very little chance of surviving doing those speeds. And you're on an alternative route to the mountain, so you're further away from hospitals and cellphone coverage."
Waikato police spokesman Andrew McAlley said the four high speeds recorded in July were all snapped by a camera near Huntly.
"That's some pretty big speeds," he said. "If you crash at 183km/h on SH39, you're a long way from any help and you are history."
Yesterday, patrol units attended an accident at Ngahinapouri after a 59-year-old man lost control of his Harley Davidson motorbike. He was taken to hospital with moderate injuries.