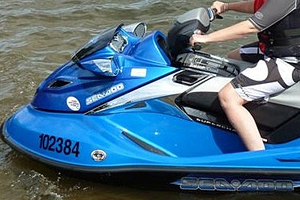 Two brothers suffered hypothermia when their jetski began taking on water and they had to swim to land in the Coromandel Peninsula yesterday.
Senior Sergeant Dave Litton said the brothers, 20 and 22, took their jetski out from Whangamata Harbour about 2pm.
They got into trouble and started taking on water and both ended up in the sea.
They made it across the channel to a piece of land across from the Whangamata township.
Although warmly dressed they were poorly prepared without wetsuits, life jackets or any communication device.
"On a winters night with daylight quickly failing, means things can quickly develop into a life-threatening situation," Mr Litton said.
However they did manage to light a fire to help them get warm.
Fortunately, someone walking near the harbour heard them calling for help shortly after 6pm and they were found by the members of the Whangamata Surf Lifesaving Club.
Both men were treated for hypothermia.
Mr Litton said this was a reminder to anyone taking to the water to make sure they were prepared for any eventuality.
"Making sure your vessel is up to the task and you have the right equipment to keep afloat and raise the alarm if needed are the minimums for any boat user," he said.
- APNZ