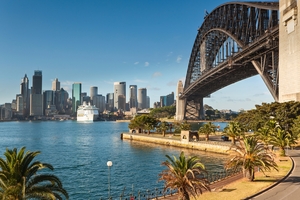 IT contractors are in hot demand across the Ditch, particularly those who can create smartphone apps.
Steve Shepherd, the Sydney-based group director of recruitment firm Randstad Sourceright, says demand for IT professionals is being driven in part by companies wanting to find new ways to connect with their customers.
"There is an increased use of technology within larger organisations as a means of improving productivity," he says. "Our national broadband network is being rolled out across Australia and putting demand on talent across that space. Then there is the whole digital media thing - this is really starting to gain traction as companies look at ways to connect with their customers.
"There is also strong demand for IT contractors as companies need help to install new digital systems - these contracts can run for between six and 24 months depending on the complexity of the project."
Shepherd says the reliance on contractors is partly down to the IT space, where a lot of temporary staff are routinely used, coupled with a reluctance by firms to take on full-time staff.
However, he predicts that demand for IT staff will cause wages in the industry to rise in time.
"What people earn will really depend on how niche their skills are," he says. "In demand are those with emerging skills around phone app development. Companies wondered if apps were a bit of a fad, but now there is an acceptance of them companies are increasingly looking to use them.
"Typically, what they have done is outsource that kind of work - including web design - and now you are seeing organisations looking to bring that in-house."
Also in demand, says Shepherd, are people who can work in early learning centres. He says the market is becoming more corporatised as parents look for alternatives to church halls and community centres - "and that is creating demand for trained and qualified people".
"Changes in Australian legislation will fuel demand for Certificate Three qualified people in that area too," says Shepherd. "So backpackers arriving here will not be able to fill those vacancies - and that will put pressure on the childcare market.
"For parents it is hard to find childcare spots, so you see new centres opening up and we have seen more corporate firms enter this market, providing an alternative to not-for-profit council or church run facilities."
Demand in the healthcare sector is also increasing, particularly for those who can work with providers of aged and disability care services.
"We are seeing high demand in those areas," says Shepherd. "And we also expect that to increase in the coming years. We have an ageing population, there are many companies investing in this space, and a growth of large healthcare providers is expected.
"Our national disability insurance scheme came in on 1 July, and that has put more money into disability care. We predict that as that money starts to flow into the market there will be much more interest by corporates in the disability care and private healthcare arena. It will increase demand for carers."
Overall, Shepherd says business confidence in Australia is low, but says it is nothing like 2009 when everything "screamed to a stop" and companies stopped hiring.
Shepherd says people looking to move to Australia will be more likely to get a job if they are in the country - able to attend interviews, or prove they are able to quickly relocate to Australia should a job offer be made.
"If you are a Kiwi looking for work in Australia then you have got to be very clear that you are ready to move, that you can move quickly.
"Companies are not going to wait three months for somebody to sell their house and relocate. Kiwis are in competition with people already living close to employers in Australia, and although we have Skype, there is nothing better than attending an interview in person."
Shepherd says people keen to move to Australia need to do their research, and go where their skills are needed "that is not always the location you expect".
"If I have two equal candidates for a job and one can start next week, then that's who I'll recommend," he says. "Employers will take the one who can move fastest."
Oz skill shortages
* Agriculture and forestry.
* Construction.
* Engineering.
* Education.
* Health and social services.
* Oil and gas.
* Recreation and hospitality.
* Science.
* Trades - motor mechanic/metal workers.
* Transport.
Source: Australian government's Immediate skills shortage list (2013).
Steve Hart is a freelance journalist at SteveHart.co.nz