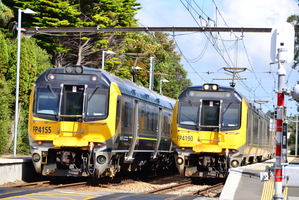 About 1500 commuters had their travel plans disrupted this morning due to train problems in Wellington.
Damage to overhead lines between Kaiwharawhara and Wellington had suspended trains running on the Hutt and Petone lines.
A spokeswoman from Kiwi Rail said the lines needed to be examined after damage to the part of a working train, which connected it with overhead lines, was discovered.
"As a precautionary measure ... we had the guys out checking the overhead line to make sure nothing was obstructing them.
"There was also some damage to the overhead lines between Kaiwharawhara and Wellington."
Five services were suspended while repairs occurred, the spokeswoman said.
Buses from Petone to Wellington were called in to cater for the 1500 affected passengers.
Services were now running on schedule, she said.
- APNZ