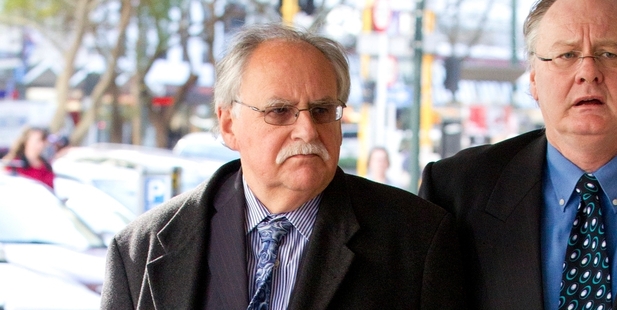 David Ross had the outward appearance of a successful businessman - he lived in a $2.2 million home, owned expensive paintings, drove a Mercedes, and told clients he holidayed around the world.
What he didn't tell these investors, some of whom gave the 63-year-old their life savings, was that he was running a $380 million Ponzi scheme.
Ross' out-of-pocket victims are now calling for the Wellington financial adviser to be sent to jail for as long as possible after he pleaded guilty yesterday to charges laid by the Financial Markets Authority and Serious Fraud Office.
According to authorities, Ross conducted a Ponzi scheme involving 1200 customer accounts, which he disguised by falsely reporting clients' investments.
A Ponzi scheme is when investors are paid out using incoming money from new clients rather than legitimately made profits or returns. Such schemes generally require a constant stream of new investors, who believe their funds are being properly used rather than being paid out to other clients.
Ross told his clients their investments were worth $380 million more than was actually the case. The total amount clients actually invested with his business was $115 million. Asked where this money went, the SFO's Graham Gill said it was still being looked into.
"It is clear that some money was probably lost on bad investments ... some of it will have been used to repay people who wanted their investment back, obviously that's the nature of a Ponzi scheme. It is an incredibly complex matter," Mr Gill said.
Although some lucky investors got more money out from Ross' business than they put in, others face the prospect of losing everything.
While investors wait for answers on their money, Ross is spending his first night in prison and the SFO expects he will eventually be jailed for a "lengthy term".
The adviser will return to the Wellington District Court in October where a sentencing date will be set.
The maximum penalty for one of the charges he admitted is seven years in prison.
Ross' change of fortune has been sharp - last September he was still courting investors, wanting to get more money out of them.
A month later the FMA raided the offices of the adviser's business, Ross Asset Management. The High Court then froze his assets - including his Lower Hutt family home, which QV values at $2.2 million. Receivers in charge of RAM assets said in their last report that they are still discussing the most appropriate way to deal with the house, which is held in a trust and was bought before Ross set up his business in 1990.
Almost $200,000 of paintings owned by Ross and his wife Jillian have already been auctioned off and are likely to be used for the family's legal costs, receivers said.
An Auckland couple, who had less than $100,000 invested with Ross and do not want to be identified, want the 63-year-old to be worse off than his victims when released from jail.
"I want to see him put in jail for as long as possible and when he comes out to be seen to be poor and behave as if he is poor and not have access to secret trust funds which I wouldn't be at all surprised are hidden somewhere ... I would like to see the cars and the houses go and them living on the dole," said one of the pair.
An investor from Northland, whose extended family invested around $4 million with Ross, had a different impression of the financial adviser.
"When I first met him, he reminded me of one of the old-fashioned bank managers ... we found him a very down-to-earth sort of a guy ... we could have easily put everything we had with him but thank God we didn't," he said.
Ross threw Christmas parties for his clients, which more than a hundred people attended, but "certainly wasn't flashy", the investor said.
RAM investor group spokesman Bruce Tichbon said there was some sense of satisfaction among members that Ross had "been put away at last".
"But there's really overriding concern that this is just the start of our problems.
"Tens of millions of dollars have been stolen ... there's terrible legal uncertainty whether there's going to be any compulsion for that money to be returned to the investors that it was stolen from," Mr Tichbon said.