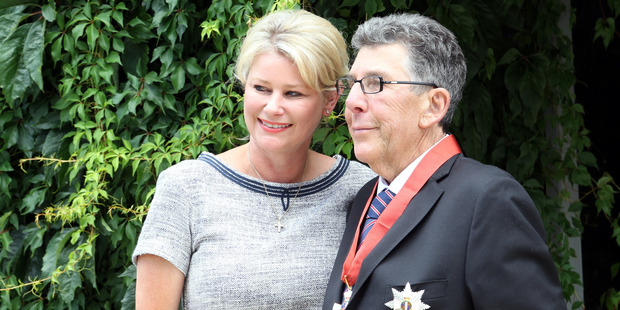 Paul Holmes whispered to his wife "I love you" before taking his last breath.
Speaking for the first time of her last days with the veteran broadcaster, Lady Deborah Holmes has revealed her husband's final words.
The reality of his death had not yet set in for the widow, who says she's still in stage one of her grief - denial - and some nights wakes up in the middle of the night in a full panic attack.
"You have to take your grief in bite sizes," she told the Australian Women's Weekly.
"As humans, we're only able to deal with a little at a time. That's how I'm handling it anyway ... There's a huge amount of pain behind the wall I've built up. I visit it every now and then but it's too terrifying so I retreat pretty quickly."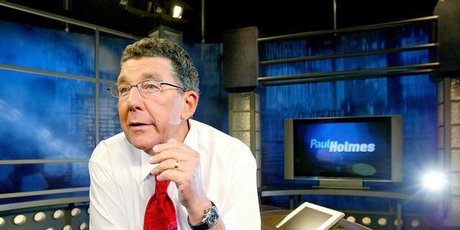 Lady Deborah said she hoped to skip the next stage of grief - anger.
"What do I have to be angry at? We were in love, we were absolutely united in everything we did."
She told the magazine she sometimes feels as if Sir Paul is away in Auckland for work. Most days, she expects to hear him arrive home and stroll into the house.
The broadcaster's beloved dog, Buzz, still sits by the door every Sunday and waits for his usual 2pm arrival.
Sir Paul died aged 62 on February 1 after the return of aggressive prostate cancer and heart failure.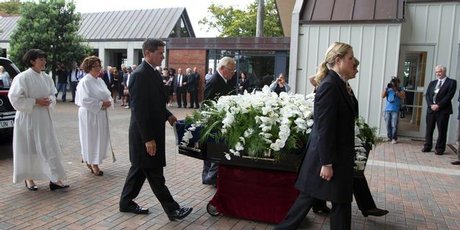 His wife is now preparing to move out of Mana Lodge - the Hawkes Bay home the couple made theirs in 2009 - and into a two-bedroom cottage down the road that she is renovating. The lodge will be rented out for special events including weddings.
"I've had purpose," she said. "I've had to carry on, even though my heart is breaking. Paul taught me that. He taught me strength. I can carry on because I look at what he endured in the last two years of his life. I never want to get complacent."
She said there could be love in the future but it wasn't something she had even contemplated.
"I suppose that I'm aware it's a possibility. I'm 42 and I'd never say never.
"But I'll definitely never love someone like Paul again. I know that ... I'm planning the next week, the next day actually. I'm certainly not planning the next decade."
Lady Deborah is writing a book that is part memoir, recipe book and document about Mana Lodge.