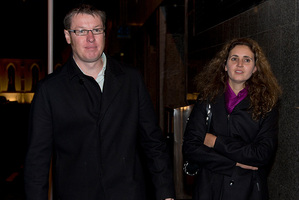 A man sentenced to 10 days in jail for refusing to sit on a jury has had his sentence quashed at the High Court at Auckland.
James David McAllister was found in contempt of court for refusing to take the oath or affirmation after being selected for a jury in Auckland District Court on July 10.
In a decision released today, Justice Graham Lang found McAllister was in contempt when he refused to take the oath, but replaced his 10-day prison sentence with a $750 fine.
McAllister said this evening that he wasn't "too happy" about a couple of parts of the judgement.
"There's still a couple of questions just to be sorted out [that] I'd better look into first before I make too many comments.
"Obviously I do have a few things to say...some parts I am happy with....obviously the decision to throw out the second contempt charge and also quash the prison sentence."
McAllister said he wanted to review the judgement and consider his options before deciding if he would take any further action.
In his judgement released today Justice Lang said McAllister's conduct was deliberate and interrupted the court process.
"It also disobeyed the judge's earlier direction requiring him to serve on the jury, and occurred in circumstances where Mr McAllister had no lawful excuse for doing what he did."
Justice Lang dismissed McAllister's appeal against Judge Nevin Dawson's conclusion he was guilty of contempt for refusing to take the oath.
However, Justice Lang allowed his appeal against against Judge Dawson's conclusion that he was guilty of contempt for subsequently saying he could serve impartially on the jury.
"The appeal against sentence is allowed, and the sentence of imprisonment is quashed. In its place Mr McAllister is fined the sum of $750."
Justice Lang said McAllister's conduct was "an ill-judged attempt to ensure that he honoured pressing and important work commitments at the expense of his civic obligation to perform jury service".
An engineering consultant at Kordia, McAllister had said he wanted to be excused because of work commitments.
However, Justice Lang said McAllister did not wholly disregard his jury service obligations.
"He was at court and available for jury selection on 8 July 2013 from 8.45am until approximately 11.45am. He returned to court for that purpose and for approximately the same period of time the following day. He then came back on 10 and 11 July, when the events giving rise to the contempt allegations occurred."
He was not a person who ordinarily shirked his obligations as a citizen, Justice Lang said.
"This is best demonstrated by the fact that Mr McAllister was one of approximately 100 engineers who voluntarily assisted with building assessment and demolition work in the Canterbury region immediately after the devastating earthquakes that occurred there in February 2011."
McAllister's colleague Peter Best told the High Court in an affidavit that it was dangerous work, but McAllister was prepared to give up his time to do it.
A deterrent sentence of imprisonment was not required, Justice Lang said.
"I consider that Mr McAllister's conduct can be adequately punished by the day that he spent in the courthouse cells, together with the imposition of a fine."
- APNZ