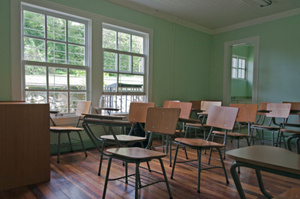 Teachers appearing before the profession's disciplinary body will likely be named and shamed following a review of suppression rules.
Parliament's regulations review committee earlier this month held that the Teachers Council's practice of automatically suppressing the names of school staff who had been complained about was not in accordance with the Education Act.
Communities were not being told about teachers found guilty of physically or sexually abusing students - some of whom had been allowed to return to the classroom, it found.
Teachers Council director Peter Lind said the council agreed there should be a revision of the rules, and one would take place as soon as possible.
"We do have control of our own disciplinary tribunal rules and we are immediately reviewing those now with a view to implementing the recommendations from the Parliamentary regulations review committee," he said.
The council's argument had always been that the majority of witnesses who appeared before it were children and young people who may be re-traumatised by a public hearing.
He said the review would therefore look at giving the council more power to implement and enforce name suppression where appropriate. But the starting point would likely be to name the teachers involved.
The council would need to undertake consultation with Parliament, key stakeholders, media and the public before the changes were implemented. It would likely take months rather than weeks, he said.
The Herald on Sunday and Wellington barrister Graeme Edgeler had complained to Parliament's regulations review committee that the rules were suddenly being enforced.
In a decision issued earlier this month, chairwoman Maryan Street and member Lianne Dalziel did not consider the council's rules were in accordance with the Education Act.
They said the act "clearly intends the Disciplinary Tribunal's proceeding to generally be open, and information relating to proceedings to generally be publicly available".
The committee said the council had the ability to change its own rules and recommended it did so to ensure proceedings were open.
It also recommended the Government consider amending the Education Act to specify explicitly that the proceedings be open to the public.
- APNZ