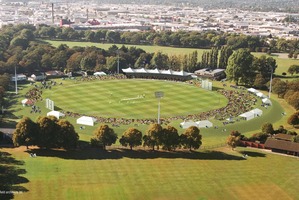 Controversial upgrades to Hagley Park's cricket oval in central Christchurch have been backed by city councillors today.
The 11 votes to three majority decision gives Canterbury Cricket a ground lease for its proposed development, which includes a raised embankment, new pavilion and retractable lighting towers.
It's a major boost in the city's bid to bring the ground up to international standard and the ability to host three 2015 Cricket World Cup games.
The Environment Court granted the ground resource consent earlier this month, with strict conditions on its use, including capacity and the number of matches a year.
The International Cricket Council (ICC) last month awarded the opening match of the tournament to the post-disaster city, with New Zealand to play 1996 champions Sri Lanka on February 14, 2015.
Councillors against were Helen Broughton, Yani Johanson, and Glenn Livingstone who said he was "unhappy with [the] process".
The council also voted to support on releasing $1.85 million towards the development.
The February 2011 earthquake caused major damage to the city's premier cricket venue, AMI Stadium.
While its owners, Christchurch City Council remain in discussions with its insurers over its future, the city has missed out on prominent cricket matches in the last two-and-a-half years.
Conditions imposed by the Environment Court include:
* No more than two fixtures exceeding 12,000 spectators may be scheduled in any three-year period.
* No more than 13 match days allocated to major fixtures within any cricket season.
* The total number of days that temporary structures and facilities associated with major fixtures may occupy the oval are not to exceed 40 days a season.
* Two or more major fixtures may be scheduled in the same week, provided on each occasion the total number of days that temporary facilities may occupy the oval shall not exceed 14 consecutive days.
* Light headframes are to be removed at the end of each cricket season.
- APNZ