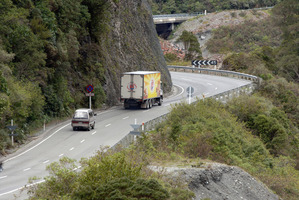 A Chinese contractor who originally admitted to driving a truck which plunged off Otira Gorge on the West Coast in April last year, killing one passenger and injuring another, now says he was not driving.
Feng (Steven) Sun, 41, is in the Greymouth District Court defending charges of careless driving causing the death of Danian Xu, 48, and injuring Kwong Chat Chui.
Most of the evidence was admitted by consent and handed up to Judge Alistair Garland in document form.
Paul Keating, a specialist vehicle inspector, could find no fault that would have contributed to the two-axle truck running off the steep gorge.
He inspected the vehicle at the crash site, and at a factory in Christchurch. Later, when the vehicle was made roadworthy, he tested the brakes and found no fault with them.
Defence lawyer Simon Clay conceded at the start of the trial that the issue of carelessness was accepted and the defendant agreed that whoever was driving the truck had been careless.
Serious crash inspector Simon Burbery said statements from Feng Sun and Mr Chui, plus his inspection of the vehicle, suggested that the occupant in the left-hand passenger seat was Mr Xu, who was still in the seat when police arrived at the scene.
The other occupants were the driver and a passenger in the "jump seat".
Mr Chui had crash injuries consistent with having been on the middle jump seat, which had been dislodged and thrown forward into the dash.
Feng Sun had a deep laceration on his jaw line and a fractured jaw, and although there was little blood in the middle of the vehicle there was plenty on the driver's side.
The steering wheel area hosted a considerable amount of blood and the right-hand side of the centre console had blood running down it.
The left-hand side of the roof had collapsed but the driver's side of the roof was relatively intact.
Mr Burbery said Mr Chui's crush injuries and his lack of cuts suggested that he was in the jump seat and the defendant was driving.
Under cross-examination Mr Burbery accepted that a surgeon said Feng Sun could have got his injuries by being ejected from the vehicle, but he said there was no blood outside the vehicle, proving that the injury must have been sustained in the cab.
"Blood does not fly backwards," he said.
- The Greymouth Star