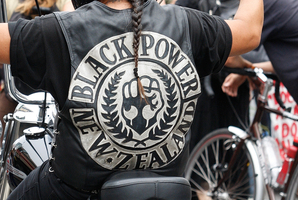 Eighteen Black Power members and affiliates are facing charges in Auckland today following a massive police operation this morning involving more than 100 officers.
The organised crime operation - dubbed Operation Maggie - began as a result of a number of shootings which occurred across the greater Auckland area earlier this year.
At least six people were shot between November last year and June 2013.
Detective Inspector Mark Gutry said the shootings occurred within the criminal community as a result of organised crime activity.
This morning in a synchronised effort involving over 100 officers, police executed search warrants at around 15 addressed throughout Auckland searching for firearms and drugs.
Currently, 18 people are facing charges at Manukau District Court ranging from participating in an organised criminal group, drug dealing, aggravated robbery, burglary, wounding with intent to cause grievous bodily harm, manufacturing methamphetamine, possession of methamphetamine and precursor materials and attempting to defeat the cause of justice.
The group is linked to the Mangu Kaha chapter of Black Power.
- APNZ