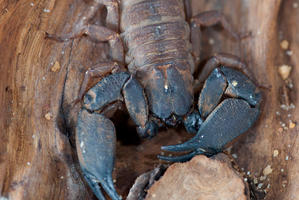 Four men will appear in court for allegedly smuggling scorpions into the country, following an investigation by the Ministry for Primary Industries.
The group are charged with various breaches to the Biosecurity Act 1993 after six Black Rock Scorpions (Urodacus manicatus) were allegedly smuggled from Australia through Christchurch International Airport and then into Queenstown.
In April the ministry received information that a Queenstown man was in possession of scorpion, MPI South Island Compliance manager John Slaughter said. A search warrant was carried out and a live scorpion was discovered.
Further investigations, including gathering cell phone records, suggested there were more scorpions, Mr Slaughter said.
Two addresses in Queenstown and Arrowtown were searched and the investigation uncovered three others involved in the smuggling ring.
All of the scorpions had been destroyed and MPI was satisfied all of the smuggled scorpions have been accounted for, Mr Slaughter said.
"This type of alleged offending is up there with the worst of its kind, and could have had serious biosecurity implications had the scorpions escaped."
Illegally introduced organisms could have major consequences for native species if they competed or preyed upon native species, he said.
"In the very worst case scenario an illegally introduced organism could have truly catastrophic effects on New Zealand's primary and tourism industries.
"We have expert advice that these scorpions could survive in the New Zealand climate, so it's safe to say that we view this as an exceptionally stupid thing to do," Mr Slaughter said.
Scorpions were restricted organisms as defined by the Biosecurity Act 1993.
The maximum penalty for each of the charges faced by the men was five years in prison or a fine of $100,000.
*************
Black Rock Scorpions:
* a dark-coloured species that can grow up to 55mm in length;
* often found living under rocks and logs in Australia;
* a widespread species and can be found in Victoria, South Australia, New South Wales, the ACT and Queensland;
* a sting can cause inflammation and pain for several hours; and
* can survive for eight years or more in the wild.
- APNZ