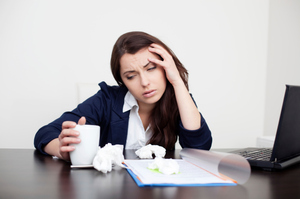 Almost two thirds of New Zealanders feel under pressure from their boss to carry on at work when suffering from a cold or flu, a new survey has revealed.
However, more than one third of the survey's respondents believed they were most likely to catch a cold or flu while at the office.
The survey was commissioned by Lemsip, Strepsils and Dettol manufacturer Reckitt Benckiser and conducted by Buzzchannel with a base of 610 respondents.
It found 40 per cent sometimes felt pressure and 24.4 per cent always felt pressure from their boss to work through a cold or flu.
Reckitt Benckiser spokesman Stephen Imm said the results were concerning as we neared the end of the winter months.
"It's surprising to see that many people are still not taking steps to look after themselves when they're ill and are putting others at risk of getting sick as well.
"Interestingly women, despite having better hygiene practices than their male counterparts, feel even more compelled to work through illness."
Precautions which could help prevent the spread of germs were still being overlooked, particularly when it came to hand hygiene, he said.
Nearly all respondents (99.6 per cent) covered their mouth when coughing or sneezing, but less than half of men (44.6 per cent) and just over half of women (55.4 per cent) went on to wash their hands afterwards.
Those in the 40-44 age group claimed to have the best hand hygiene practices and were more likely to wash their hands before eating, after going to the bathroom, before preparing food and after sneezing or blowing their nose than other age categories.
According to the Ministry of Health, the recommended time for hand washing is 20 seconds with an alcohol-based hand rub and then a further 20 seconds for drying hands.
However, nearly half of those surveyed (42 per cent) washed their hands for only five to ten seconds and one in five people (19.4 per cent) only sometimes used soap or liquid hand wash.
- APNZ