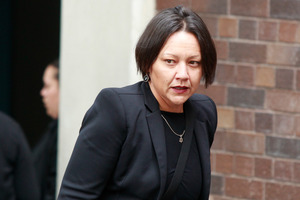 Lawyer Davina Murray has been ordered to pay more than $60,000 in costs for dragging a case "which had no wider public interest'' through the courts, the High Court has ruled.
Murray was earlier found guilty by Auckland District Court judge Russell Collins of smuggling contraband to convicted murderer and rapist Liam Reid in Mt Eden Correctional Facility in 2011.
She applied to the High Court for Judge Collins' decision to be reviewed but this was dismissed by Justice Edwin Wylie.
In his latest decision, obtained by media today, Justice Wylie held that the Department of Corrections, the police and prison operator Serco were entitled to be reimbursed for the legal costs they incurred as a result of the application.
Murray had argued that the hearing was in the public interest and requested that costs lie where they fell.
But Justice Wylie was not persuaded.
"Ms Murray was simply seeking to challenge orders made by Judge Collins, which affected her alone, and which had no wider public interest,'' he said.
Justice Wylie accepted that the judicial review proceedings would have required counsel of skill and experience and that Murray's adversaries were therefore entitled to be reimbursed for their legal costs.
He ordered Murray to pay the police $14,652, the Department of Corrections $21,131, and Serco $25,671.
During her trial, the court was told that Murray smuggled an iPhone, cigarettes and lighter to Reid.
The Crown said Murray and Reid's relationship went beyond that of client-lawyer but she described the police's warrants as a fishing exercise and said they were unlawful.
Murray has been remanded on bail until September 6 when a discharge without conviction application will be heard.
She is also likely to face a Law Society investigation.
- APNZ