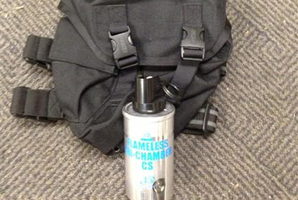 Dunedin police say anyone finding a black bag containing a tear-gas canister and cartridges, lost by officers in the city last Thursday, should not tamper with the contents.
Dunedin Clutha area commander Inspector Greg Sparrow said although police had carried out extensive inquiries, the bag and its contents had not been found.
The main concern was the public's safety, he said. Anyone finding the tear-gas canister and cartridges should not tamper with them.
"That's why we are keen to locate this bag and its contents as soon as possible. Our main concern is that someone finds the canister or the gas cartridges and doesn't know what's in them and tampers with them," he said.
A police spokeswoman said yesterday it was believed the bag fell from a police vehicle during an armed offenders squad call-out on Thursday night.
"We believe the bag has fallen from a vehicle in the vicinity of St Andrew St and the Southern Motorway during an AOS callout to a domestic incident," she said.
At 8pm on Thursday, police were called to a Mosgiel house, where a 30-year-old man had barricaded himself inside with a running chainsaw. Officers spent six hours negotiating with the man, who was eventually arrested and charged with assault.
Insp Sparrow said the bag's contents, if not tampered with, posed no harm to the public. He urged anyone who found the bag to return it to the central Dunedin police station "no questions asked".
The aluminium canister had distinctive blue writing on it, and the five tear gas cartridges were "shotgun-like".

"An internal investigation is under way to determine exactly how the error occurred and to ensure it does not happen again," Insp Sparrow said.
Anyone with information about the lost items was asked to call Dunedin police on (03) 471-4800 or supply information anonymously through Crimestoppers on 0800-555-111.