Police say killer knew at least one of the victims, whose friends were unaware of a relationship.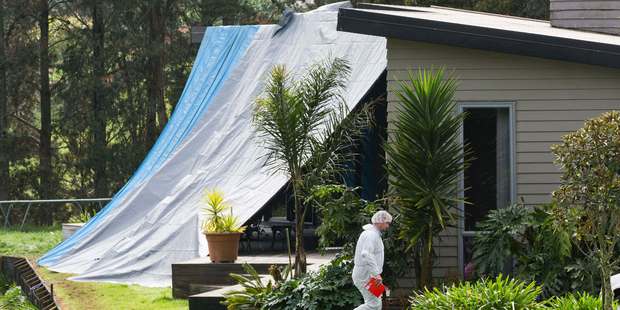 Trevor Waite and Glenys Stanton were gunned down in Mr Waite's bedroom - but the nature and even existence of their relationship seem as baffling to friends and family as the identity of the pair's killer.
Police, who are still hunting for the gunman and murder weapon, were last night working with the victims' families to build a picture of the pair's relationship but said details of the "nature and duration" were scarce. Friends the Herald spoke to said they did not know of the relationship.
The bodies of Mr Waite, 51, and Ms Stanton, 47, were found in a bedroom on his lifestyle block near Papakura at 11.20am on Sunday by Mr Waite's daughter Kelsey, 18. It is understood she did not recognise Ms Stanton.
Police believe the killer was known to one or both of those slain.
And it is likely the shooter bought or borrowed the firearm shortly before killing the couple.
A friend of Ms Stanton, Mark Hockley, who knew her from Paihia, said last night that when he saw her earlier this month, she was the happiest he had seen her in years.
"She looked better and happier than she had for a long time so I don't know if it was a new job or what. I am just in shock at the moment."
Martin Strange, Mr Waite's neighbour and president of the Drury United Football Club, said he was a well-known and well-liked club member. "He has a lovely personality and is a very likeable person. He will be very missed. Trevor lived in that house and his kids spent their time fairly evenly between Trevor and their mother's house. There was no animosity within the family.
"Trevor's main concern was for the kids, and both he and [ex-wife] Nicola made sure that they got to sports and school stuff - he partook in all of that."
Mr Waite had never mentioned Glenys, and Mr Strange and his wife had never seen her at the house.
Detective Inspector Dave Lynch confirmed the bodies were found "on the bed" with gunshot wounds.
"I don't believe this is a random crime ... There are indications at the scene that the offender was known to one or both of the victims. There is no firm suspect, we are keeping an open mind."
Mr Waite, a senior manager for Vero Insurance, has two other teenagers Elliott and Claudia, who live with his ex-wife in Papakura.
Ms Stanton, originally from Northland, has two daughters and her LinkedIn profile says she is a self-employed administrator and receptionist. It is understood she spent most of her life in Kerikeri and managed a bar in Paihia.
The bodies were to be removed from the scene last night and autopsies are scheduled for this morning.
Police met the victims' families over several hours yesterday.
Mr Lynch said investigators needed to speak to each person to find out as much as they could about Mr Waite and Ms Stanton, including the length of their relationship, as well as about their associates, and security at the Ponga Rd property.
"We don't know if it was forced entry or otherwise. We need to talk to the family about whether doors and ranchsliders being left unlocked was common."
Mr Lynch said it was still unclear what time and day the pair were killed. Mr Waite's last known contact with anyone was on Friday night.
A large team of police photographers, searchers, forensics staff and detectives remained at the property yesterday.
Officers carried out a meticulous search of the grounds as well as neighbouring properties, roadsides and treelines around the lifestyle block.
Mr Lynch said the pond in front of the house would be drained.
He would not be drawn on the type of firearm used to kill the couple. But he appealed for anyone who found a gun on their property to contact police immediately.
"We are not aware that [Mr Waite] carried a firearms licence, and we haven't found evidence he owned a firearm."
Vero spokesman Ron Burke said staff and Mr Waite's colleagues were being supported.