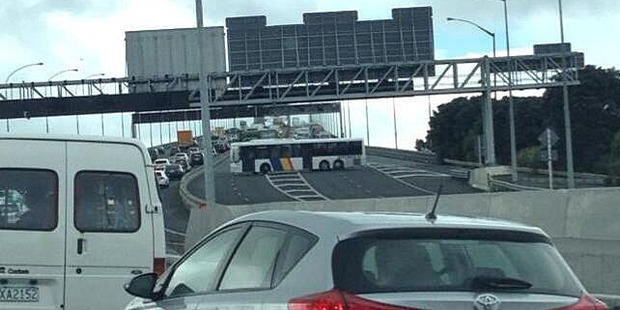 Motorists on the Auckland Harbour Bridge were gobsmacked this afternoon when a bus carrying passengers was spotted travelling north in the southbound lane.
Police say the driver may have suffered a medical problem.
The Twittersphere came alive with passengers from the bus and onlookers shocked at the sight of the bus travelling against the traffic before attempting a U-turn about 1pm.
Amanda Preston, a passenger on the bus, tweeted about the experience.
She said the driver did not seem at all aware that he was "doing something insane".
At first the passengers were quiet and looking at each other in confusion but as the bus continued towards the oncoming traffic they began yelling at the driver to stop.
Ms Preston said some passengers phoned the police.
She said the bus was brought to a halt when a truck stopped in front of it, preventing the driver from carrying on in the wrong direction.
So this is what it looks like to be facing north on the wrong side of the harbour bridge. pic.twitter.com/NFioQZUTau

— Amanda Preston (@amandapreston) August 26, 2013
Police said the bus had travelled over the bridge towards Auckland city and had taken the Shelly Beach off-ramp. It came to a stop at the Shelly Beach off-ramp and blocked traffic. The vehicle then attempted to do a U-turn.
The bus then travelled up the Harbour Bridge northbound, back towards Takapuna, in the lanes reserved for traffic heading south.
A truck pulled across the lane and stopped the bus and other cars also pulled over to help, police said.
A police motorways patrol officer reversed the bus back down the bridge.
The bus driver had been taken to hospital for medical checks.
"We'll be speaking with the driver and doing further investigation. At this stage it appears this was caused by a medical event" said Inspector Mark Fergus, Waitemata road policing manager.
"We're relieved that no one was injured and we'd especially like to thank the driver of the truck and other motorists who assisted at the scene"
Upto on the Harbour Bridge? pic.twitter.com/KiY4gyuze1

— Nate Nauer (@natetheist) August 26, 2013
- APNZ