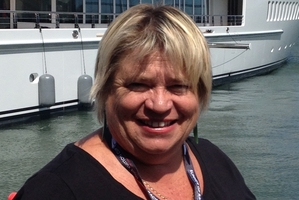 So you've just arrived in town. How many America's Cups does this make it for you?
Oh, goodness, I don't even know. Probably eight, I think - is that giving away my age?
What were your first impressions of the racing after seeing it live?
It was just a highlight for me to sit at the St Francis yacht club today and see the start of the race when they come flying towards you into shore. I have seen them on the Auckland Harbour all last summer, but to actually be in San Francisco watching the start of the race, with the Golden Gate Bridge in the background, was just an absolute highlight.
This Cup is quite different from ones you've been to in the past, has it been hard to get your head around?
It's incredibly different. The innovation, technology and design are just amazing. In a lot of ways, when I'm talking to non-boating people, it's sort of not like sailing because they're flying.
They go in the water when they tow them in and out, but the minute they start foiling they're actually flying, and it's quite hard to explain that to people.
So are you a fan of the AC72s?
I don't know, I'm kind of in two minds. I'm also a bit of a traditionalist. I have to say it is wonderful to see them racing in this very windy venue.
It got a bit hairy for Team New Zealand on one of those mark roundings. What were you thinking when you saw that?
Oh, keep that nose up, boys, keep that nose up. It was the same mark where they hit the big wave last week and it catapulted the two big men off the boat and we don't want that again.
Do you feel like you ride every wave with the team?
Oh yes, when you're a sailor you really do ride every wave and every manoeuvre - on those gybes, boy, I'm right there holding my breath.
Do Team New Zealand have a chance of winning the Cup?
I don't want to tempt fate, but I like how Team New Zealand are tracking. They're doing great, they've got the right attitude. Unfortunately I won't be here to the end of the Cup, I'll be watching from back in New Zealand on the telly. If Team New Zealand win I'll probably have a little vodka and toast the great sea god.