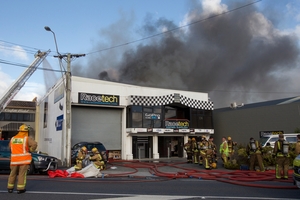 Colleagues of a Wellington firefighter badly burned after becoming separated from his mates during an industrial blaze are "pretty cut up" over what happened.
The 26-year-old from the Avalon station was one of 50 firefighters called to battle the blaze, which broke out at the Racetech car seat manufacturing building in Petone just after 3pm on Friday.
The man, who was dragged from the blaze by other firefighters, suffered serious burns to 33 per cent of his body, mainly his arms and back.
The emergency response is now being investigated by the Fire Service and the Ministry of Business, Innovation and Employment.
After spending Friday night in Hutt Valley Hospital, the man was taken to the National Burn Unit at Middlemore Hospital in South Auckland on Saturday.
He was in a comfortable condition, according to a Fire Service spokesman yesterday.
Auckland colleagues are rallying to help the man, a senior fireman with seven years' experience, and his partner.
The Fire Service is picking up accommodation and transport costs for family members to be by his side.
He will undergo extensive treatment and rehabilitation is expected to take months.
Meanwhile, the local station's welfare system has swung into action, even taking the man's cat to a cattery and collecting his mail. "The crew's pretty cut up and upset about what happened. We are like a family, and when one hurts, we all hurt," said Ian Wright, central branch president of the New Zealand Professional Firefighters Union.
While an operational investigation and a health and safety accident audit will try to find out what went wrong, and if any lessons can be learned, Mr Wright said it again highlighted the dangers of the profession.
"It brings it all home to firefighters. We're all one big family. For one of us to get so desperately hurt is a horrible reminder to the nature of the job," he said.
"You can't do much about it. From time to time - because the environment is so hostile, rapidly changing and uncontrollable - it's not surprising that we get hurt. It's just surprising that it doesn't happen more often."
Mr Wright visited the man in hospital at the weekend and said that "considering he'd been dragged out of a fire", he was doing well.
Deputy national commander Paul McGill said the man and his partner had asked for his identity not to be revealed while he was undergoing treatment.
"They're a private family and have asked to deal with this with their closest friends and colleagues."
Burns of this severity were very rare for a firefighter, especially one who was clothed in full protective gear, Mr McGill said.
"We want to find out how come he got such serious burns."APNZ
- APNZ